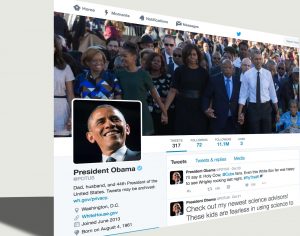 Next year the president-elect will assume control over a range of social media accounts and digital channels that were created under the Obama administration, but like the presidency itself, intended to withstand a peaceful transition of power to the next commander-in-chief.
In addition to effecting a seamless transfer of the accounts, the administration is taking steps to preserve the various tweets, thousands of hours of videos, millions of photographs, web pages, and blog posts from the Obama era, and making them publicly accessible, in much the same way that prior administrations did, in accordance with the Presidential Records Act.
In a post on the White House blog published Monday, Kori Schulman writes:
While much of the digital transition is unprecedented in the United States, the peaceful transition of power is not. There are some important principles we can work from. Accordingly, we have been working to ensure that our digital transition meets three key goals. First, we are preserving the material we've created with the National Archives and Records Administration (NARA). From tweets to snaps, all of the material we've published online will be preserved with NARA just as previous administrations have done with records ranging from handwritten notes to faxes to emails. Second, wherever possible, we are working to ensure these materials continue to be accessible on the platforms where they were created, allowing for real time access to the content we've developed. Finally, we are working to ensure that the next president and administration – regardless of party – can continue to use and develop the digital assets we have created to connect directly with the people they serve.
Facebook, Instagram, and Twitter accounts for all office holders, and for the White House itself, will be transferred to the next administration, while all extant posts will be preserved on new separate accounts. For instance, the official presidential Twitter account (@POTUS) will be handed over to the 45th president's staff, but the tweets from the Obama era will live on as an archive under the handle @POTUS44. (The post-presidential Obama will presumably revert to using @BarackObama.)
To accomplish this the White House is soliciting ideas from the public for the most efficient ways to gather and store this data and make it accessible.
Have a tip we should know? [email protected]