What is Nova Scotian Island's New Marketing Strategy? Offering Asylum from President Trump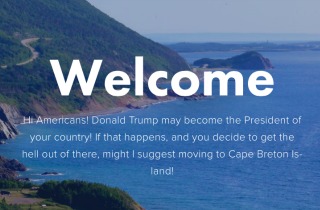 You know how there are always those people who say "if so-and-so wins the election, I'm leaving the country"? Well, an island in Canada has taken that into account, and those who are disturbed by Donald Trump's potential presidency now have at least one option they can turn to.
Cape Breton is an island located off the Northeastern coast of Nova Scotia, and on Monday, Canadian radio host Rob Calabrese set up a tourism site that jokingly offers it as a backup plan if Americans are serious about moving away:
Hi Americans! Donald Trump may become the President of your country! If that happens, and you decide to get the hell out of there, might I suggest moving to Cape Breton Island!

Don't wait until Donald Trump is elected president to find somewhere else to live! Start now, that way, on election day, you just hop on a bus to start your new life in Cape Breton, where women can get abortions, Muslim people can roam freely, and the only "walls" are holding up the roofs of our extremely affordable houses.
Calabrese talked to Huffington Post CA about how the site was a personal project of his, and that he figured he'd do something satirical with it to address the island's decreasing population. The site does look as inviting as any other tourist directory––offering scenic views, varying temperatures, and all of the usual good stuff on top of freedom from Trump.
"We need people [and] we need you! This is not a joke," the site reads."You belong here on Cape Breton Island, where healthcare is free, you know your neighbors and they look out for you and nobody has a hand gun."
[image via cbiftrumpwins.com]
Have a tip we should know? tips@mediaite.com