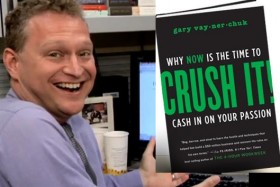 Here comes the fall book season — which means here come the websites, blog posts, Twitter feeds and viral videos that have become necessary counterparts to the excerpts, readings, interviews and lectures that were once the only way of promoting a new book. These days, having a built-in audience is essential to making not only waves but sales — so authors better be able to tap into that.
Someone like Gary Vaynerchuk is a good example, whose book, Crush It, comes out next month. Vaynerchuk has been crushing it on promotion since day one, tweeting it out as a hashtag (#crushit) and making "crush it" part of the content he delivers to his extremely faithful online audience.
THE FIVE PEOPLE YOU TWEET IN HEAVEN
THE SOCIAL MEDIA SOMMELIER
Another good example: The usually behind-the-scenes David Javerbaum's recent video about his new book, What to Expect When You're Expected: A Fetus's Guide to the First Three Trimesters. You might know Javerbaum as a Tony-nominated Broadway lyricist, but it's more likely that you know him from his comedy work: The Daily Show, where he has spent years as both head writer and then executive producer; America: The Book for which he was also of the three principal authors; and Stephen Colbert's A Colbert Christmas: The Greatest Gift of All, for which he was the lyricist.
Javerbaum is usually behind-the-scenes (did you even know that was him above? It is), but when a book hits the shelves it's time to get out there. And so, here he is, starring in a new video on YouTube promoting the book. It's already got a respectable 1,940 views — but probably not from people Googling "Daily Show Writer" and "baby book." Here's where the help of friends comes in — I found this via John Hodgman's Twitter feed (at over 80K followers, that'll get you nicely RT'd), and no doubt the video will start to make the comedy rounds soon.
Will it make that much difference to sales? Who knows? Either way, not doing it is no longer an option. Video below.
Have a tip we should know? tips@mediaite.com