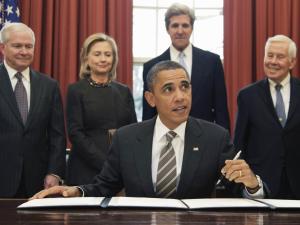 Writing for ABC's "Political Punch" blog, the network's senior White House correspondent, Jake Tapper, reports on how how President Obama signed the much-discussed START nuclear disarmament treaty with Russia this morning – without allowing any reporters or TV cameras to witness the historic signing.
Journalists have long complained about the Obama White House's often contentious relationship with the media, so some might see this decision as additional fodder for that argument. Writes Tapper:
The White House Correspondents Association protested the White House's decision to refuse to permit reporters access to the event, in addition to the dearth of press briefings since the crisis in Egypt began to unfold, a crisis in which President Obama continues to celebrate the great freedoms and openness enjoyed in this country.
We asked Mediaite's own Tommy Christopher, who is no stranger to reporting from the White House, to weigh in:
Having a pool spray only for an event like this is very unusual. Pool correspondents generally know that the President doesn't take questions at signings, and usually won't fire questions at him. But Chip Reid did cause a stir when he asked the President a question at the signing of the Free Press Act, causing a meta-ironic blow-off that became minor news. The President not answering hollered questions at a signing might seem normal to us, but with the unaccustomed eyes of the world on him, he probably doesn't want to create the impression that he's ducking the press.
A pity, because it would have been interesting to hear the President's thoughts about the treaty as it was signed.
Have a tip we should know? tips@mediaite.com