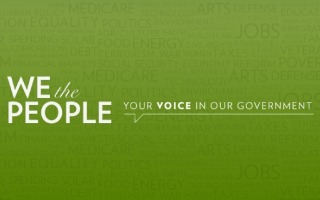 The White House may be checking "Respond To Petitions" off its to-do list this week. After telling Americans that Piers Morgan will not be deported and then noting that a Death Star is simply too expensive to build, the White House is now responding to the several secession petitions that arose after the November election. "Our states remain united," writes Jon Carson, director of the Office of Public Engagement.
"Free and open debate is what makes this country work, and many people around the world risk their lives every day for the liberties we often take for granted," he adds. "But as much as we value a healthy debate, we don't let that debate tear us apart."
RELATED: Deporting Piers And Finding Aliens: The Inevitable Futility Of The White House Petition Site

Carson's response was meant to address each of the secession petitions from the states which had reached the threshold 25,000 signatures. Although more than two dozen states filed petitions, not all reached the requirement number for a response. The states that did include Florida, Georgia, North Carolina, South Carolina, Louisiana, Texas and Alabama.
"So, let's be clear," Carson concludes:
"No one disputes that our country faces big challenges, and the recent election followed a vigorous debate about how they should be addressed. As President Obama said the night he won re-election, 'We may have battled fiercely, but it's only because we love this country deeply and we care so strongly about its future.' Whether it's figuring out how to strengthen our economy, reduce our deficit in a responsible way, or protect our country, we will need to work together — and hear from one another — in order to find the best way to move forward."
h/t The Blaze
—
>> Follow Anjali Sareen (@AnjaliSareen) On Twitter
Have a tip we should know? tips@mediaite.com