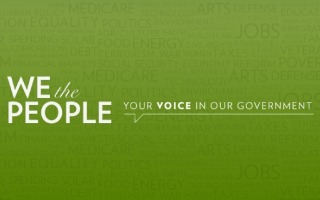 In the midst of popular petitions to deport Piers Morgan, keep Piers Morgan, build a Death Star, rescind PSY's invitation to the White House, arrest a talk show host, take petitions more seriously, and of course, secede, the White House may be realizing it has created a beast it can't control. Mother Jones spoke to White House staffers this week and asked what they thought of the new petition website. The response? An overwhelming, "My god, what have we done?"
The threshold to require a response to White House petitions used to be 25,000 but after the past several useless petitions, it has been raised to 100,000. One White House staffer told the mag, "If you had told me a year and a half ago that the White House would be devoting time writing [an official statement] on how Lord Vader could fix our economic woes, I would have just laughed loudly at you."
The initiative, which was launched to maintain an "unprecedented level of openness in government," may be useful at times but has become quite cumbersome. "For the most part, it's a good public service," a White House staffer said, "and, hey—isn't it nice to show people once in a while that you don't lose all sense of humor just because you start working for The Man?"
Other staffers are a bit more optimistic, despite the excessive and sometimes laughable petitions: "It puts some bureaucrats out of their comfort zones and reminds everyone we are working for the people."
John Sonderlich, policy director for the Sunlight Foundation, believes it is a "worthwhile experiment" even with "less serious" requests:
"It's not fundamentally changing how power works, but that's not to say it's not important. We're seeing a lot of enthusiasm and attention. There are probably a lot of people who only heard about the petitions website because of the Death Star petition. If that makes them more aware of how the White House works…then that's a good thing."
"My favorite lighthearted one is definitely the Death Star one," he added.
h/t Mother Jones
Have a tip we should know? tips@mediaite.com