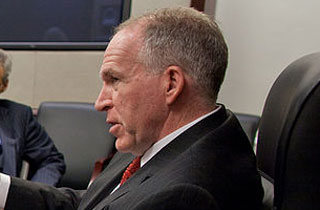 Though recent revelations about the CIA's enhanced interrogation programs led to demands that the White House to hold them accountable, the Obama administration will not ask for the resignation of current CIA director John Brennan, Press Secretary Josh Earnest told reporters today, adding that they considered him a "professional and patriot."
"Mr. Brennan worked here in the White House for four years as the president's top homeland security adviser. And Mr. Brennan has continued his service as the director of the CIA," Earnest said, praising Brennan's work. "The president believes that he has done an exemplary job in both of those roles."
Earnest also said that they continued to have faith in the integrity of the CIA, despite the fact that the Senate's report accused them of deliberately misleading Congress, the White House, and the media about the extent and efficacy of their programs. "We certainly would have the expectation that everybody in this administration, including everybody who works for the Central Intelligence Agency, would be truthful and honest with members of Congress, particularly when they're under oath," he added , according to The Hill.
Whether the government prosecutes the CIA will be left in the hands of the Department of Justice, said Earnest. "That is the way that our criminal justice system works, which is that we have career federal prosecutors that are insulated from any sort of political interference, even the appearance of political interference," he said, to the protests of many journalists. "And the president accepts that's the way that the system works."
The report, which was recently declassified by the Senate Intelligence Committee, contained horrifying details of abuse during the Bush administration, including forced rectal feedings, waterboarding, psychological torture, and sleep deprivation, as well as a concerted effort by the CIA to hide these programs.
Brennan, who was confirmed as CIA director in 2013, released a statement defending the CIA's practices, claiming that the interrogation programs yielded valuable information. However, he did admit that the CIA made mistakes, particularly in its earlier days. "In carrying out that program, we did not always live up to the high standards that we set for ourselves and that the American people expect of us," he wrote.
[The Hill]
[Image via White House]
—
>> Follow Tina Nguyen (@Tina_Nguyen) on Twitter
Have a tip we should know? tips@mediaite.com