White House Touts Appointing First Disabled Justice To Supreme Court – Sonia Sotomayor
White House Touts Appointing First Disabled Justice To Supreme Court...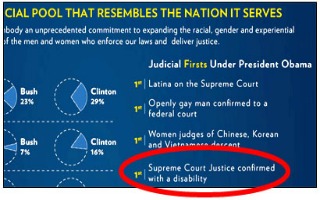 Jonathan Bernstein at the Washington Post's "The Plum Line" has exposed the latest feather in the Obama administration's cap, and it's one you may have missed. President Obama became the first president to appoint to the United States Supreme Court a justice with a disability. That justice is Sonya Sotomayor. That disability is diabetes.
RELATED: J. Lo Hosts Dinner for Judge Sotomayor
Bernstein reports on an information graphic on the White House's websites which touts the president's accomplishments on helping minority justices ascend to high courts. Among the Obama administration's diverse judicial appointments are an openly gay federal court justice, the first Latina justice, female justices of Vietnamese, Korean and Chinese descent and the first disabled justice.
Mother Jones columnist Kevin Drum hopes he is not the only person who did not know Justice Sotomayor was both diabetic and this was officially classified as a disability.
Did I already know this? Maybe. My memory is so bad that I couldn't tell you whether I once knew this and have forgotten, or whether I had never heard this before. In any case, I guess I've added two new bits of knowledge to my brain pan today: (1) Sonia Sotomayor has diabetes, and (2) diabetes is considered a disability. Live and learn.
The American Diabetes Association reports that 28.5 million Americans, or 8.3 percent of the total population of the United States, have some form of diabetes while a further 79 million Americans have "pre-diabetes."
The American's With Disabilities Act does include federal protections for Americans with diabetes, particularly for diabetic children who require special medical and nutritional care in public schools.
Have a tip we should know? tips@mediaite.com