White Jewish Journalist Badgers BuzzFeed to Hire Him for 'Diversity' Position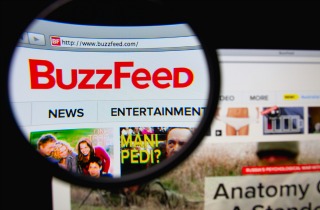 Does BuzzFeed's job opening for "Journalists Of Color And Other Diverse Backgrounds" apply to a Jewish white guy? Washington, D.C.-based Freelancer Evan Gahr is aggressively trying to find that out.
Or maybe he's just pulling a stupid stunt to prove a legitimate point.
BuzzFeed announced the position, which was created in partnership with Columbia Journalism School for a mid-level reporter, in early October. Deadline for applications is Nov. 1.
The qualifications for the position, which lasts for a one year and pays the winner of it $85,000: be an entrepreneurial reporter of color and/or of a diverse background.
After the fellowship was announced, The Weekly Standard asked BuzzFeed Editor-in-Chief Ben Smith to explain what would constitute "other diverse backgrounds" but he didn't elaborate.
Gahr went ahead and sent an application to Smith, noting that if his skin color were a problem, he would visit a tanning bed.
According to a blog post by Gahr, Smith told him he'd consider the application. Gahr, for some reason, then called Smith. Smith hung up on him.
Asked if he's just dicking around, Gahr said no.
"I want the job," he told Mediaite. "I have all the right qualifications except melanin. I am confident that I have better qualifications than whichever over-privileged minority they will ultimately select."
At the same time, Gahr says he's trying to make the political point that the "obsession" with newsroom diversity is "foolish and counterproductive."
"The whole point of being a journalist is that you put aside your personal feelings and opinions to report the news as objectively as possible," he told us. "So if you're a good journalist your race should be irrelevant."
Here's the video of Gahr phoning Smith, the BuzzFeed editor, only to get hung up on:
[Photo via Shutterstock.com]
— —
>> Follow Eddie Scarry (@eScarry) on Twitter
Have a tip we should know? tips@mediaite.com