White Privilege Alert: State Rep. Calls Justice Clarence Thomas 'Uncle Thomas' Then Apologizes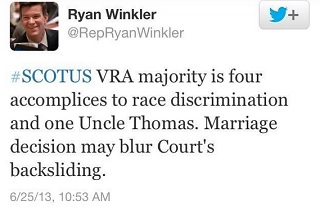 Even when they're fighting against racial discrimination, some white people just can't help themselves. Minnesota State Rep. Ryan Winkler (D-MN), for example, was so outraged by the Supreme Court's decision to strike down a key provision of the Voting Rights Act of 1965 that he was moved to call Justice Clarence Thomas an "Uncle Thomas," a play on the epithet "Uncle Tom," which is used to describe a black person who undermines his race in order to curry favor from the white power structure. It's a harsh judgment, one which is inextricable from race, and one which a beneficiary of white privilege has no place making.
On the heels of the Supreme Court's decision, Winkler tweeted ""#SCOTUS VRA majority is four accomplices to race discrimination and one Uncle Thomas. Marriage decision may blur Court's backsliding."
He later deleted the tweet, and tweeted a series of apologies:
I didn't think it was offensive to suggest that Justice Thomas should be even more concerned about racial discrimination than colleagues.

But if such a suggestion is offensive, I apologize.

Deleted Tweet causing offense regarding Justice Thomas. I apologize for it, but believe VRA decision does abet racism.

@atrupar I did not understand "Uncle Tom" as a racist term, and there seems to be some debate about it. I do apologize for it,
Rep. Winkler also released the following statement:
"I was very disappointed today in the Supreme Court decision to roll back key provisions of the Voting Rights Act because I believe the Voting Rights Act is one of the most important steps our nation has taken to eliminate racial discrimination.

In expressing that disappointment on twitter, I hastily used a loaded term that is offensive to many. My words were inappropriate and I apologize. The implications of this Supreme Court decision are serious for our state and country and I regret that my comments have distracted from the serious dialogue we must have going forward to ensure racial discrimination has no place in our election system."
The sad thing is, Rep. Winkler was right about almost everything, including that the VRA decision abets racism, and so Justice Clarence Thomas abetted racism today. He was also right when he sent these tweets:
And if Virginia wants a battle flag back from their war to defend slavery, they can march to Minnesota and take it.

@Shabbosgoy Protecting Sourthern states' rights over African-American voting rights is diverse thought. Also reprehensible.

The VRA is maybe the most important step our nation has taken to eliminate racial discrimination. It gives meaning to the 15th Amendment.

The #SCOTUS decision today is the progeny of Nixon's use of race to win political majorities and the states' rights doctrines of Rehnquist.
All of which is undermined by his choice of insult, "clever" as it was. This is really simple. There have been many strong, effective white allies to the black civil rights struggle, and even many who have died, but none of them has earned the right to make that judgment. It's not just because the term is offensive, although it is. "Uncle Tom" is part of a subset of keywords in the internal debate over how to achieve equality, a subset which also includes terms like "Oreo" and "house n*gger," or if you're on the other side, like former Rep. Allen West, then you regard black Democrats as willing field slaves.
Beyond the term's uglier cousins, though, is the fact that white people like Rep. Winkler, or white conservatives who are tickled by the "plantation" analogy, have always been, and still are, beneficiaries of the system of white privilege that produced this conversation, and as such, have no standing to make this judgment. From my perch, I would argue that the terms are of diminished usefulness, since there's always someone who's going to think someone else is a Tom, and always someone who'll think the other guy is being too militant, but when it comes right down to it, what the f*ck do I know about it? It'd be like me telling a fish he's using his gills all wrong. How could I ever know a goddamn thing about it? I've never had to breathe that shit, and I never will.
Justice Clarence Thomas participated in a bad decision today, one which will undoubtedly abet racism, but I don't know what's in his heart, what his swim in the muck of American racism has done to him. He probably believes that he's doing the right thing by black people, and all people, but maybe not. It doesn't matter. Just as I'm not about to call Justice Thomas an "Uncle Tom," I'm also not about to judge another black man for being angry at him. It's his vote that Justice Thomas endangered, not mine, and if he wants to call Clarence Thomas a Tom, I have nothing to say about it.
What I can say is that by striking down Section 4, the Supreme Court has set up a test, to see if the coalition that includes people like Rep. Winkler and me is worth a damn. republican assaults on voting rights juiced minority turnout in 2012, and this decision could do the same for 2014, and 2016. The only way to fix the damage that the Supreme Court did today is to completely wipe Republicans out at the ballot box, and install a Congress that will pass a Voting Rights Amendment that guarantees equal, unabridged access to the ballot box for every American, in every jurisdiction.
Have a tip we should know? tips@mediaite.com