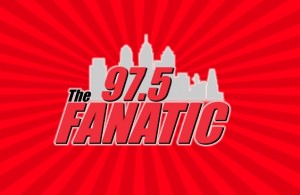 This is sort of like blackface, but instead of being rooted in racist theater and television, it's taking place on the radio, so maybe this is more of a case of blackvoice. Either way, a white guy adopted a few hand-picked black characteristics and used them for his own gain, so it's not going over well. It never does.
Here's the rundown: In Philadelphia, there is a sports radio show called The Fanatic. Listeners of that show are familiar with a regular caller who went by Dwayne from Swedesboro. According to the sports blog Crossing Broad, Dwayne could be described as "a stereotypical black guy with paternity test problems" and "a white woman-crushing playa who fancies Mahogany Bath & Body Works 2-in-1 Hair and Body Shampoo."
He could also be described as producer Pat Egan. No, really. He was dreamed up by a producer of the show. The producer is white and when he made social media profiles for his character, he used photos of his black acquaintance. That acquaintance requested that his images be taken down from Crossing Braod's site, so we won't reprint his name here. (A tweet from the now-deleted account of "Dwayne" says, "Bout to go to da White women Mecca. Da Starbucks located in da Target. Just wait for dem to come to me. #NextVictim")
What's even more shocking than the fact that a white guy at a radio station thought it would be funny to imitate a black man on air and online is that everyone at the station was in on it except for the main host, Mike Missanelli. When Crossing Broad's reporter reached out to them for comment, in fact, Missanelli and Jason Myrtetus had an on-air conversation about how a black guy, presumably Dwayne, showed up to their station and wasn't allowed in. Few people believe that Missanelli didn't know Egan was behind the character, but at least 50% of the people involved in that on-air conversation knew that Dwayne wasn't real.
After Crossing Broad dropped the story on Monday, Missanelli spent a large chunk of the show yesterday saying he "would have shut down [the stunt] immediately because [he] was sensitive to the racial undertones involved." Still, he made sarcastic comments about the reporter who scooped the story. He said, "We are living in an era of reporters that know how to dig on the big stories of the day. Your little Jimmy Olsen medal is coming in the mail."
One person who really is heated over all of this is ESPN commentator Bomani Jones, who has spoken out against racism in sports before. He tweeted the following: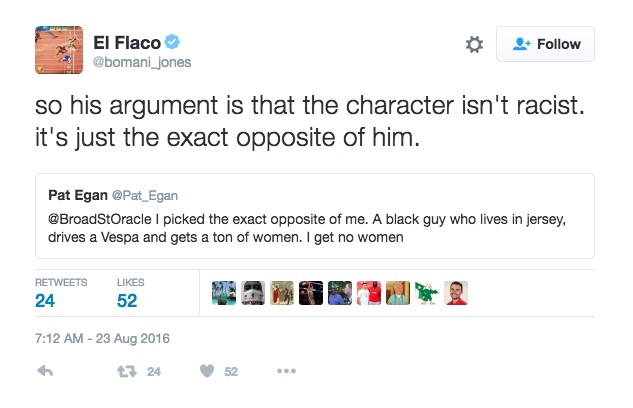 .@pat_egan so do you have an affection for black women? ✌?️dwayne✌?️ loved white women. and he's the opposite of you, you say.

— El Flaco (@bomani_jones) August 23, 2016
.@pat_egan so tell us how much you love black women. or at least that de niro is your favorite actor. maybe that'd work.

— El Flaco (@bomani_jones) August 23, 2016
.@pat_egan but making ✌?️dwayne✌?️ a fiend for white women is where your terrible lie falls apart. just own this, apologize and move on.

— El Flaco (@bomani_jones) August 23, 2016
@bomani_jones Bruh! Philly has two sports stations, 1 w/ 24 live org programing….zero full time blk non athlete hosts

— James (@Jam_Brandon) August 23, 2016
nah, you got it. just remember this when ppl say we're so pc and ppl always get fired for this. they don't. https://t.co/Kf7R8iGKLu

— El Flaco (@bomani_jones) August 23, 2016
told you that wouldn't take long. anyway, bigger problem is whoever won't fire dude.

— El Flaco (@bomani_jones) August 23, 2016
Jones clearly thinks someone should lose their job over this and guess what? Someone has! Someone at the rival sports station! After mercilessly ragging on his competitor for having to invent callers, WIP's Josh Innes was let go. Prior to today's firing, he was using his show to tear the Fanatic crew apart for their insistence that Missanelli didn't know the caller was fake and their insistence that everyone uses fake callers.
This story is a convoluted one. As this story was published, no Fanatic firings had been announced.
[image via screengrab]
Have a tip we should know? tips@mediaite.com