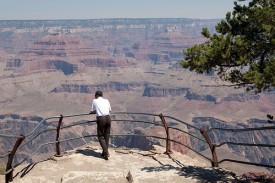 Andrew Sullivan writes that President Obama has gone from 'The One' to "The Doomed." Politico says Obama appears to be "surrendering" to the right-wing lunatic fringe (also, Fox). And yesterday New York Times columnist David Carr noted that Obama, "the silkiest executive communicator to come along since Ronald Reagan," is no longer the master of his own message.
Sounds dire doesn't it. Especially considering this is a key week for Obama: he's made the unusual move of calling a joint session of Congress on Wednesday, in order to talk one final time about the health care bill (keeping in mind the Van Jones debacle perhaps he should reconsider using a chalkboard). Then again, it also sounds like perfect timing.
More than one person who watched President Obama's Labor Day speech in Ohio noted that the President sounded like he was back on the campaign trail. Fired up! Ready to Go! And what is the first rule of good campaigning? Lowered expectations. It's a trick most of the candidates employed before big debates last year (or in the case of Sarah Palin, before most appearances). Make the public believe you are down and out, show up in a blaze of glory (or at least coherent) and voila! The storyline is all about your triumphant return.
The cable and blogosphere meme between now and tomorrow night will be that Obama has lost the message, has lost support, has lost his ability to own his own coverage. Between the Town Halls, Van Jones, and boycotting school children, the seven and a half month old presidency has not had a lot going for it these past two months, which basically means that the stage (and the news cycle) is perfectly set for Obama's triumphant return from the summer of his discontent. The summer is over, people have less time on their hands, Glenn Beck has just succeeded in ousting a White House official. News cycles don't like it when there's one winner for too long. Obama has had his knocking down, get ready for the Obama Returns! Impresses! Surprises! headlines.
Have a tip we should know? tips@mediaite.com