Why Would Megyn Kelly — Who Always Stays Above-the-Fray — Now Start Taking Shots?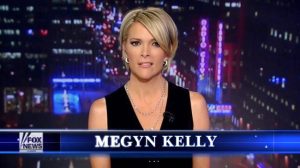 Even from friends of mine who are not associated with the world of political media, I've been receiving messages about the fact the Mediaite finds itself somewhat at the center of a quickly-developing storm between Fox News stalwarts Sean Hannity and Megyn Kelly.
The former Tweeted out a link to a story by my colleague Josh Feldman last night, in which Hannity accused Kelly — the fan-favorite 9 p.m. anchor for The Kelly File — of being a (GASP!) supporter of Hillary Clinton's.
@megynkelly u should be mad at @HillaryClinton Clearly you support her. And @realDonaldTrump did talk to u. https://t.co/vsQiNMgHut

— Sean Hannity (@seanhannity) October 6, 2016
The move is the second apparent swipe by Megyn Kelly aimed at her network peer and his cozy relationship with Republican nominee Donald Trump. The rift began last week immediately following the presidential debate between Trump and Clinton at Hofstra University on Long Island; Trump chatted exclusively with Hannity afterwards, which was prefaced by Kelly saying, "We've got Trump speaking to our own Sean Hannity. We'll see whether he speaks to the journalists in this room after that interview" (the implication was that Hannity himself does not qualify as one of those "journalists").
Media outlets picked up on the subtle dig; Mediaite had it up and published within mere minutes; the remark on Fox News was written about on Raw Story, POLITICO, and by Erik Wemple of The Washington Post as well. Hannity did not respond.
Then last night, Megyn Kelly said the following:
"Donald Trump, with all due respect to my friend at 10:00, will go on Hannity and pretty much only Hannity and will not venture out to the unsafe spaces these days, which doesn't exactly expand the tent."
This time Hannity wouldn't take it lying down; he shot back via Twitter within an hour with the above response. USA Today is calling it a "Fox Fight," Variety labeling it a "Dust-Up," while the New York Times is going with, "Megyn Kelly and Sean Hannity Indulge in Testy Public Clash."
All of this begs the question… why? Why would Megyn Kelly knowingly take pot shots at her network peer? Kelly is a TV vet; she knows the impact of her words, and is fully aware that these one-liners can cause an uproar at the intersection of media and politics within minutes.
The obvious first explanation could be that Kelly could quite possibly be on her way out the door and at this point in the election cycle couldn't care less about leaving a small (albeit perhaps justified) trail of fire in her path. She reportedly earns north of $10 million a year from Fox News, and her contract is set to expire in July 2017; Michael Moore even joked on her show recently that she could very well be heading for ABC, while she's also been spotted hanging with her pal Don Lemon at CNN events this year as well.
Another reason could be Kelly's extremely unique place in this election, namely her dynamic with Donald Trump that was spurred on by her line of questioning last summer regarding his past comments on women. While the two may have buried the hatchet of sorts (the GOP nominee appeared on her primetime FOX special in May), Trump addressed Kelly directly (and very publicly) Tuesday night after she noted that the nominee was "surrounded by his team" controlling his Tweets:
.@megynkelly– I am in Nevada. Sorry to inform you Kellyanne is in the audience. Better luck next time.

— Donald J. Trump (@realDonaldTrump) October 5, 2016
Perhaps Kelly's name has been dragged through the mud enough in this election cycle and she fears nothing through her retaliations. Or maybe, and somewhat related, she just wants to say what she is thinking and doesn't care how it's received within Fox News.
Regardless of what the reason is, the fact remains that Megyn Kelly is clearly irked by the coddling of Donald Trump that has emerged during his general election run. Trump has not held a formal press conference since July 27, opting instead for essentially a rotating slate of interviews between Hannity and Fox & Friends (which has basically become a part of his morning routine). Paul Farhi of the Washington Post wrote, "Trump seems to have become press-shy," putting him in the same basic category of Hillary Clinton, whose recent bout of pneumonia could've just been her allergic reaction to the media acting up again. In either case, the always professional and above-the-fray Megyn Kelly has been uncharacterically unafraid to take some swipes, indicating that in this post-Roger Ailes world, perhaps now that the king has been dethroned, a civil war is brewing.
UPDATE –– 10:22 pm ET: Both of them appear to have made up. More here.
—
J.D. Durkin (@jiveDurkey) is an editorial producer and columnist at Mediaite.
This is an opinion piece. The views expressed in this article are those of just the author.