WikiLeaked Survey Says 1/3 Of British Muslim Students "Believe Killing In The Name Of Religion Is Justified" (Updated)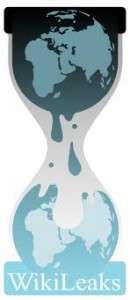 Remember Glenn Beck's fuzzy math, which calculated that 10% of Muslims are actually terrorists? Well, according to one of those WikiLeaked diplomatic cables, the man may have been wildly underestimating. At least when it comes to British Muslim students, one-third of whom "believe killing in the name of religion is justified," according to a survey reported in the Daily Mail.
The cable dates to early 2009 and refers to "a survey of 600 Muslim and 800 non-Muslim students at 30 universities throughout the UK conducted by the Centre for Social Cohesion."
The same survey also says that 54% of respondents "wanted a Muslim party to represent their world view in Parliament," while 40% "want Muslims in the UK to be under Sharia law."
In case you're wondering, here's some context: the Centre for Social Cohesion is a right-leaning London think tank that has previously come under fire for various issues, including making Irish jokes. The Centre's director Douglas Murray is the author of a book titled Neoconservatism: Why We Need It.
Other than the survey, the cables also reveal that engaging Britain's growing Muslim community has been a "top priority" for the U.S. Embassy:
"Although people of Muslim faith make up only 3 to 4 percent of the UK's population, outreach to this key audience is vital to U.S. foreign policy interests in the UK and beyond. … This is a top Mission priority," stated the cable.
If the numbers in the survey are any indication, efforts at community relations have been largely unsuccessful so far. You can read more about the survey and Britain's Muslim population over at the Daily Mail.
Update: From The Guardian – "Daily Mail's Wikileaks 'revelation' about Muslim students is their own 2008 story"
Click here to read full story from The Guardian
Have a tip we should know? tips@mediaite.com