WikiLeaks' Assange in February: 'War Hawk' Clinton Should Not Become President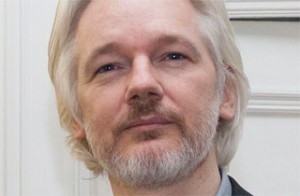 WikiLeaks' Julian Assange, who oversaw the release of those hacked DNC emails, has not only been railing against Hillary Clinton as dangerous and corrupt for a long time, but has also declared openly that Clinton should not be made America's next president.
There is a piece on WikiLeaks website from Assange in February titled "A vote today for Hillary Clinton is a vote for endless, stupid war." Here's some of what he has to say:
I have had years of experience in dealing with Hillary Clinton and have read thousands of her cables. Hillary lacks judgement and will push the United States into endless, stupid wars which spread terrorism. Her personality combined with her poor policy decisions have directly contributed to the rise of ISIS…

She's a war hawk with bad judgement who gets an unseemly emotional rush out of killing people. She shouldn't be let near a gun shop, let alone an army. And she certainly should not become president of the United States.
Just last month, Assange said in an interview that they have Clinton emails they'll be releasing soon. This sounds to be separate from the DNC leak.
Those of you who remember the first time WikiLeaks became known to the general public may remember how, after they dumped those diplomatic cables in 2010, then-Secretary of State Clinton reacted by saying, "Let's be clear. This disclosure is not just an attack on America — it's an attack on the international community… There is nothing laudable about endangering innocent people, and there is nothing brave about sabotaging the peaceful relations between nations."
Assange has previously stated that Google is "directly engaged" with her campaign, and last year the infamous Kim Dotcom said Assange would be Clinton's worst nightmare.
Now, none of the above means to suggest that Assange is pro-Donald Trump. Just this week, he was asked about who he would prefer on Democracy Now! and he said, "You're asking me, do I prefer cholera or gonorrhea? Personally, I would prefer neither."
[h/t The Hill]
[image via screengrab]
— —
Follow Josh Feldman on Twitter: @feldmaniac
Have a tip we should know? tips@mediaite.com
Josh Feldman - Senior Editor