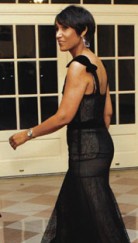 While there are plenty of jokes to be made about the Salahi's White House state dinner party crashing, it is at the core, an extremely serious breach of White House security that could have endangered the President's life. That is not a joke. Neither is the Congressional hearing that's been called for tomorrow to investigate what happened. Because as audacious at the Salahi's behavior was it pales in comparison to lapse in security that happened. The question now is whose lapse was it? The Secret Service, who has apologized, or somebody in the social office?
The focus now seems to be on the social office. Desiree Rogers to be exact. Rogers, close watchers of this story will already know, showed up to the dinner in a (gasp!) Comme des Garcons gown. She walked the press line. She may or may have been seated though her name was on the guest list. What she did not do, nor anyone in her office, was watch the gate even though that has been common in years past.
The White House has since announced, in a rather heated exchange (updated: video below, transcript of exchange after the jump) that she will not be attending the Congressional hearing tomorrow even though her presence was requested. Which is just the sort of announcement a certain person by the name of Glenn Beck might love to label a conspiracy! And then proceed to draw a relentless amount of attention to. And while to our knowledge Rogers has not yet been accused of doing anything wrong (or is you know, a reader of Chairman Mao) at the rate these stories take hold it may just be a matter of time before she officially becomes (in cable land anyway) the Social Czar!

Related:
Executive Privilege for Obama's Social Secretary? [TIME]
TRANSCRIPT
Have a tip we should know? tips@mediaite.com