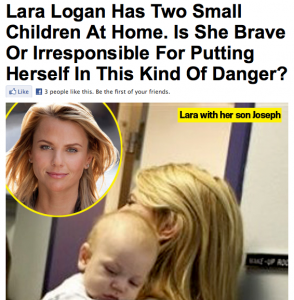 The story about the attack and sexual assault CBS correspondent Lara Logan endured while covering celebrations in Cairo's Tahrir Square has been a major topic of discussion this week, as have certain individuals' reactions to it – individuals like, for instance, former NYU fellow Nir Rosen, who resigned after his Tweets about the attack drew major criticism from his followers and CNN's Anderson Cooper.
Now, Hollywood Life, a website covering celebrity gossip for a female audience – describing itself as "Your Celebrity News, Gossip & Style BFF" – is weighing in on Logan's attack, asking whether it was "irresponsible" of Logan, a mother of two, to "put herself" in such a situation. Gossip Cop, which devotes itself to "busting bad dish," noted the incongruity of a site catering to women essentially placing blame a female victim of sexual assault. They write:
HollywoodLife, a site run by and catering to women, has done the unimaginable – blamed the victim.

After noting that Logan is the mother of two children, the blog asks, "Is She Brave Or Irresponsible For Putting Herself In This Kind Of Danger?"

"Irresponsible"?

HollywoodLife then essentially repeats itself, though more emphatically, in its opening paragraph: "Do you think she's really brave, or completely irresponsible for putting herself in such a dangerous situation when she has two little kids waiting for her to come home?"
It's difficult to imagine a news outlet wondering the same about a male journalist taking assignments in volatile, dangerous areas while his children are at home. Gossip Cop went on to offer Hollywood Life some helpful advice on how to approach a news story of such a sensitive nature:
Rather than re-victimize Logan, a women's site like HollywoodLife should be grateful she survived, and laud her for her accomplishments instead of calling her "irresponsible."
As with many major stories involving a well-known media figure, it's always enlightening (and often times disheartening) to see what angles certain outlets take in covering the story. Ethical qualms and emotional reactions to Hollywood Life's story aside, one has to wonder whether this particular angle – and the word choice used throughout the article – best serves the site's intended audience.
h/t Gossip Cop
Have a tip we should know? tips@mediaite.com