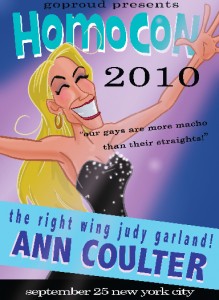 Conservative website World Net Daily has scored another meta-exclusive, announcing that World Net Daily has "dumped" lightning rod Ann Coulter over a "Homoconflict." CEO Joseph Farah told his own website that it would be dropping Coulter as keynote speaker at its "Taking Back America" conference because she has agreed to headline GOProud's Homocon 2010.
Lest you think that Coulter has defiantly pitched a rainbow flag, however, she will continue as a WND columnist, and in remarks to WND, doesn't exactly lock arms with GOProud.
Coulter took fire from gay conservatives a few years back when she used an anti-gay epithet in reference to then-candidate John Edwards. According to The Daily Caller, though, some think that Coulter has changed her stripes:
"If she can help other conservatives turn the corner on equality for gays and lesbian Americans … then more power to her," said R. Clarke Cooper, executive director of Log Cabin Republicans. About Coulter's comments three years ago: "People are allowed to evolve."
In an update to the same piece, however, GOProud seems to disagree:
GOProud Board Chairman Christopher R. Barron issued this statement Wednesday morning: "We did not invite Ann Coulter to speak at Homocon 2010 because we believe she has 'evolved.'"
Coulter's response to WND doesn't seem to suggest that she holds GOProud in any higher regard than "nuts" like the birthers:
I speak to a lot of groups and do not endorse them. I speak at Harvard and I certainly don't endorse their views. I've spoken to Democratic groups and liberal Republican groups that loooove abortion. The main thing I do is speak on college campuses, which is about the equivalent of speaking at an al-Qaida conference. I'm sure I agree with GOProud more than I do with at least half of my college audiences. But in any event, giving a speech is not an endorsement of every position held by the people I'm speaking to. I was going to speak for you guys, I think you're nuts on the birther thing (though I like you otherwise!).
If Coulter is planning to surprise Homocon's audience with a strong show of support, however, this is exactly how she would respond.
GOProud was at the center of another conflict  earlier this year, as their inclusion at CPAC caused one speaker to protest, at which point he was booed off the stage.
Have a tip we should know? tips@mediaite.com