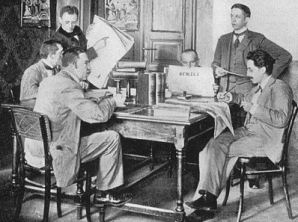 News reporters like to catch readers' attention with a few zingy lines at the start of an article. Sometimes, these so-called "ledes" go horribly wrong. In Today's Worst News Ledes, we highlight some of the biggest offenders:
3. From The New York Times, "Party on, but No Tweets":
THE invitation, by e-mail, was clear.

"You are cordially invited to Protocols NYC, an off the record, no tweeting, no blogging, no photos, salon."

What did they expect guests to do with themselves?

Protocols, held every two weeks since September in a small private penthouse in Murray Hill, is hosted by five Manhattan news media types who each invite two guests. The idea, according to a host, Michael Malice, an author and blogger, is to let invitees talk fearlessly in the present.
Actually, this sounds like a great idea. But! "Manhattan news media types" are probably not the best focal points for a trend piece of any sort, much less one with the word "tweets" in the headline. In no way do their lives resemble those of real people.
2. From Daily Mail, "The BNP councillor who drives a car with 'Nazi' number plate":
A senior British National Party member has infuriated his opponents by driving in a car with a number plate that resembles the word 'Nazi'.
BNP councillor Julian Leppert arrives at meetings in his black Ford Focus with a registration NA51 ZCY.

But the rising star of the far-right wing party insists he had no idea the number plate looked like 'Nazi'.
This may be the most breathlessly written exposé yet about a government-assigned license plate that kind of looks like the word 'Nazi.' As one of the article's commenters points out, under the British vehicle registration system, N stands for North,  A for Newcastle, and 51 for the year 2001,  "so a large number of cars registered in newcastle in 2001 will have the prefix NA51." Apparently, they are all Nazis.

1. From CNN, "Manson's lasting legacy: 'Live freaky, die freaky':
Forty years ago, a group of young people led by a charismatic, 5-foot-2-inch ex-con named Charles Manson set out on a murderous spree in Los Angeles, California. They planned to spark an apocalyptic race war that Manson called "Helter Skelter," after a song by the Beatles.

Over two nights in August 1969, the killers took the lives of seven people, inflicting 169 stab wounds and seven .22-caliber gunshot wounds. They used the blood of their victims to scrawl anti-establishment messages on the walls: "Pig," "Death to Pigs," "Rise" and a misspelled "Healter Skelter."
'Live freaky, die freaky' isn't a Manson quote, but comes from an LA Times columnist, and it sounds more like the lasting legacy of Bootsy Collins, not a serial murder conspiracist. The unnervingly E! True Hollywood Story-like tone continues into the heart of the article, when we learn that "Manson's musical roots partially explain his staying power" and "Manson's crimes continue to evoke a strong reaction long after public obsession over other high-profile cases has faded. He was the bogeyman under the bed, the personification of evil, the freaky one-man horror show."
Have a tip we should know? tips@mediaite.com