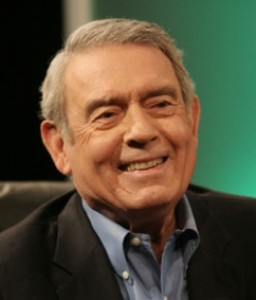 "The old news model is crumbling, while the Internet, for all its immense promise, is not yet ready to rise in its place — and won't be until it can provide the nuts-and-bolts reporting that most people so take for granted that it escapes their notice."
These words, from the Washington Post this Sunday, are the latest in Dan Rather's campaign to get President Obama to convene "a nonpartisan, blue-ribbon commission to assess the state of the news as an institution and an industry and to make recommendations for improving and stabilizing both."
Rather raised the idea of a presidential commission at the end of July while speaking at the Aspen Institute (video below). He told the audience that, "Traditional journalism as we know it is under siege, and I think it's in crisis," reducing the threat to three main trends in the news industry now: "corporatization, politicalization and trivialization of news."
That said, far from TARP-like bailout, Rather underscored the fact that a "White House commission on public media," as he called it in Aspen, would be an important step towards legitimizing the debate about the future of the news, not getting money from the government from struggling news companies.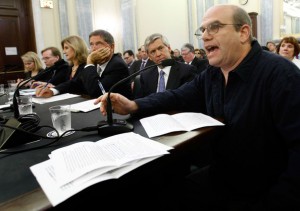 The Senate, for its part, took a step in that direction earlier with the spring when the Committee on Commerce, Science and Transportation, chaired by John Kerry, held a Future of Journalism hearing, which amounted to little more than a day of brainstorming and information gathering between committee members and a panel of old and new media characters — David Simon, Arianna Huffington, The Dallas Morning News publisher Jim Moroney, Google's Marissa Mayer, former Washington Post managing editor Steve Coll and Alberto Ibarguen, CEO of the Knight Foundation.
In Rather's mind, anything short of presidential mandate will not meet challenges facing the news industry. Rather concluded his column in the Post, writing:
This is a crisis that, with no exaggeration, threatens our democratic republic at its core. But you won't hear about it on your evening news, unless the message can be delivered in a way that corporate media have little choice but to report — such as, say, the findings of a presidential commission.
It is difficult to imagine, however, how President Obama would be able to defend such a commission. His use of press appearances to drive his agenda and manage stories has already become a story of its own, and a presidential commission aimed at saving the media would no doubt draw criticism. And, forgetting President Obama for a second, it's not even clear that media companies need the president to step in (especially if we're just talking about getting their balance sheets on the evening news). Rather is right that media coverage hasn't given the difficulties facing the news industry top billing, but will more attention, courtesy of the president, help? Maybe, but we also have to believe that in a few years American media companies will figure out a way to make money again, with or without Obama's help.
Dan Rather's Speech at the Aspen Institute on July 28.
Photos courtesy of Getty Images.
Have a tip we should know? tips@mediaite.com