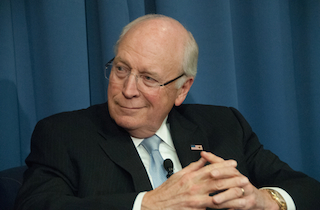 The Wall Street Journal editorial board thinks President Barack Obama needs to use his speech outlining military action against ISIS Wednesday night to admit his foreign policy has been a failure and that the Bush administration had it right all along.
"The mere fact that Mr. Obama feels obliged to send Americans to fight again in Iraq acknowledges the failure of his foreign policy," the board wrote Wednesday morning. "He is tacitly admitting that the liberal critique of the Bush Administration's approach to Islamic terrorism was wrong."
Alleging that "Mr. Obama's intellectual and media defenders were complicit in all of this," the board said that Obama's feckless and overly cautious foreign policy had lost the support of the American public:
Mr. Obama can blame this rising tide of disorder on George W. Bush, but the polls show the American public doesn't believe it. They know from experience that it takes time for bad policy to reveal itself in new global turmoil. They saw how the early mistakes in Iraq led to chaos until the 2007 surge saved the day and left Mr. Obama with an opportunity he squandered. And they can see now that Mr. Obama's strategy has produced terrorist victories and more danger for America.

[…] We hope tonight's speech shows a more realistic President determined to defeat Islamic State, but whatever he says will have to overcome the doubts about American resolve that he has spread around the world for nearly six years. One way to start undoing the damage would be to concede that Dick Cheney was right all along.
[h/t Wall Street Journal]
[Image via Albert H. Teich / Shutterstock.com]
——
>> Follow Evan McMurry (@evanmcmurry) on Twitter
Have a tip we should know? tips@mediaite.com