'You Son Of A B*tch': Furious Boston Man Confronts 'A**hole' Alex Jones Reporter Over 'False Flag' Allegations
'You Son Of A B*tch': Furious Boston Man Confronts 'A**hole' Alex Jones Reporter Over 'False Flag' Claims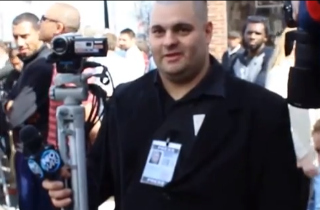 An InfoWars.com reporter found himself the subject of verbal scorn last week when he appeared in Boston with press badge and camera in tow. An irate Boston resident confronted him on the street, in front of dozens of onlookers, with a profanity-laced tirade against the reporter's boss Alex Jones and their website's perpetuation of the conspiracy theory that the Federal Bureau of Investigations executed the Boston Marathon bombings as a "false flag" operation.
InfoWars reporter Dan Bidondi was in the Boston area to "ask questions" of the locals when an unnamed resident confronted him.
"Your boy said this was a false flag, the bomb that blew up people was a false flag," the man says at the start of the footage. "The FBI is behind the bombing, that's what you're here to cover. And that's why I'm the asshole? Because the FBI blew up those people at the Boston Marathon? That's right. That's because you're a dope. And what you say is dangerous and people like you shouldn't be able to drive a car, much less espouse your opinions in public."
As the man unleashed on Bidondi, the InfoWars reporter continued to insist he's just there to "ask questions" and that the FBI was behind the bombings.
"You're an asshole. And so is Alex Jones," the unnamed man continued. And that's the nicest thing I can say about you, you son of a bitch."
"Anything else you got to say?" Bidondi asked dismissively.
"Yeah, I just said it, motherfucker," the man behind the camera fired back.
As the exchange escalated, the furious resident made clear he is unconcerned whether the other attendees think he is an "asshole" or a "smart guy" for being so verbally abusive towards Bidondi.
"I am the smart guy," he said, "because I'm not standing here saying the FBI blew up the people at the Boston Marathon, you fucking shitheel."
The man continually attempted to goad Bidondi into telling the crowd his full beliefs on how the FBI used the Boston bombing as a "false flag" operation, but the InfoWars reporter repeatedly insisted he is just there to ask questions. Until he finally admitted it:
"They did," Bidondi asserted. "We got the photos to prove it."
"You got shit, you got jack-shit, you got your dick in your hand," the Bostonian said to laughter from bystanders. "You fucking asshat."
Watch the VERY NSFW clip below, via YouTube:

[h/t RawStory]
— —
>> Follow Andrew Kirell (@AndrewKirell) on Twitter
Have a tip we should know? tips@mediaite.com