Here's What AOC Was Discussing With Paul Gosar and Matt Gaetz on the House Floor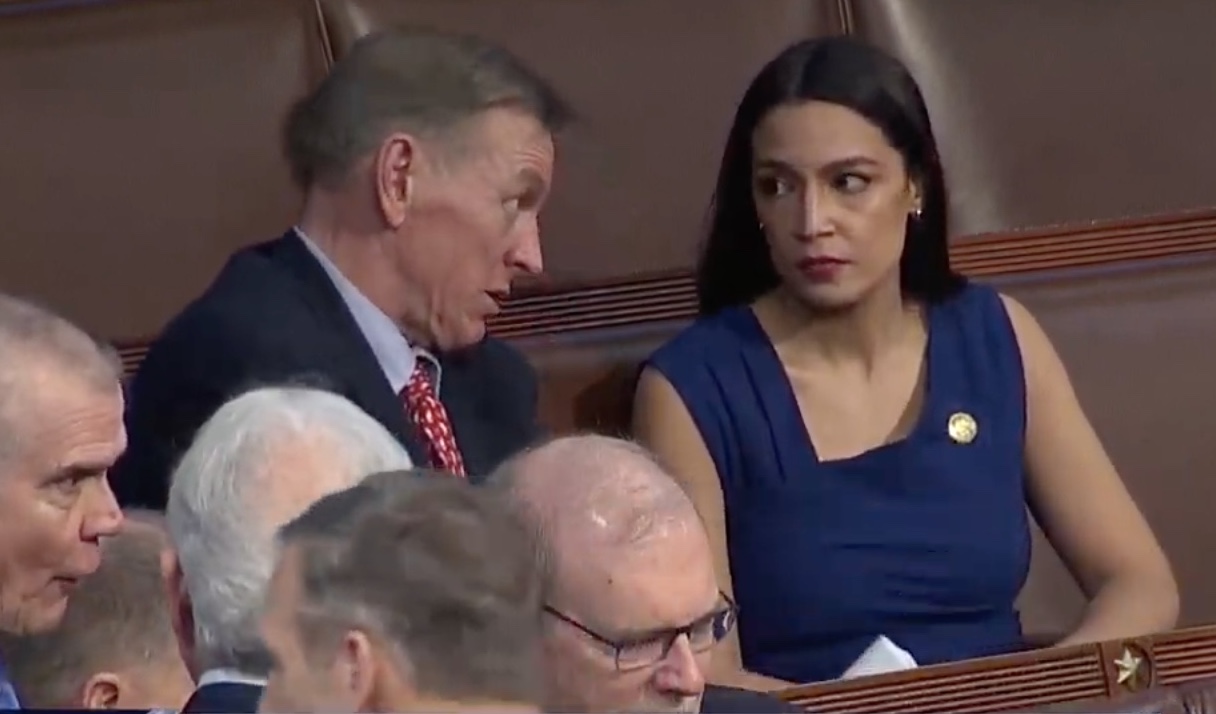 Republicans who worked to block Kevin McCarthy from receiving the speaker's gavel conferred with Rep. Alexandria Ocasio-Cortez (D-NY) to ensure Democrats would not assist him.
Ocasio-Cortez was seen on the House floor holding separate discussions with two unlikely people on Tuesday: Reps. Paul Gosar (R-AZ) and Matt Gaetz (R-FL), according to reports.
The two made up a group of 20 total House Republicans who denied McCarthy the majority he needed to succeed Nancy Pelosi as speaker through three rounds of voting. The day ended with a recess until noon ET Wednesday.
But at one point on the historic day in which a candidate for speaker failed to get enough votes after multiple rounds of voting, something intriguing was going on.
Gosar was seen speaking amicably with Ocasio-Cortez after having once posted an anime video of him killing her online.
According to Gabe Ferris of ABC News, the two were discussing opposition strategy to McCarthy's speakership bid. The congresswoman assured him there was not a Democratic Party plot to assist McCarthy.
Ferris reported:
On her floor convo with Rep. Gosar earlier, AOC tells me that McCarthy made claims within the GOP conf. that some Ds would walk away to lower the threshold. Gosar was asking AOC for clarification — would she walk away? "We would never do that," AOC told me. Jeffries all the way.
Gaetz was also seen talking to Ocasio-Cortez.
The Intercept reported on their exchange:
Gaetz told Ocasio-Cortez that McCarthy has been telling Republicans that he'll be able to cut a deal with Democrats to vote present, enabling him to win a majority of those present and voting, according to Ocasio-Cortez. She told Gaetz that wasn't happening, and also double-checked with Democratic party leadership, confirming there'd be no side deal.

"McCarthy was suggesting he could get Dems to walk away to lower his threshold," Ocasio-Cortez told The Intercept of her conversation with Gaetz on McCarthy's failed ploy. "And I fact checked and said absolutely not."
Have a tip we should know? tips@mediaite.com