Fox News Still Wins Prime Time Despite Ratings Dip; Cuomo Streaks Past Ingraham in the Demo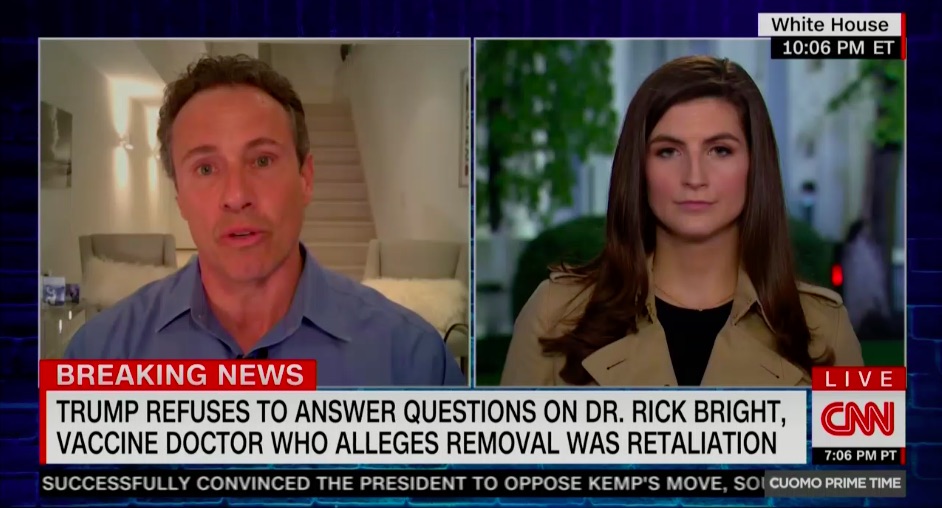 Fox News continued its primetime winning streak on Thursday, but its margin of victory was considerably narrow after it experienced a ratings drop all evening long. Meanwhile, CNN's Chris Cuomo continued his viewership surge of late, and romped to a surprising Thursday night win at 10:00 p.m. in the coveted 25 – 54 age demographic
Overall, Fox News pulled in 3.61 million viewers and 571,000 in the demo. But thanks to strong showings from Cuomo Prime Time and another in the network's series of global coronavirus town halls, CNN posted a strong second place in the demo on Thursday with 518,000 viewers in the primetime demo. It fell to third place in P2+ viewers, however, as MSNBC garnered 2.58 million overall versus CNN's 1.98 million. (MSNBC had 378,000 primetime viewers in the demo.)
It's notable that all three of its flagship primetime shows failed to attract four million viewers on Friday, which is an admittedly high bar to clear for cable news but one that Tucker Carlson Tonight and Hannity have routinely cleared of late.
Instead, Carlson and Hannity pulled in 3.90 million and 3.63 million overall, 686,000 and 554,000 in the demo, respectively. The Ingraham Angle won its time slot with 3.25 million overall viewers, but its 472,000 in the demo was clearly outpaced by Cuomo Prime Time's 548,000 (2.0 million overall).
This could be a momentary blip, but it's worth pointing out that Fox News' recent, high-flying primetime lead-in, the White House coronavirus briefing, experienced a huge falloff between the 6:00 and 7:00 p.m. hours yesterday (5.08 million overall, 988,000 demo; 2.97 million, 570,000 demo). This drop occurred even though Trump was still answering questions well into the second half of the 7:00 hour.
Have a tip we should know? tips@mediaite.com