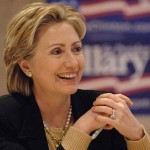 I came across WSJ columnist James Taranto's column from August 12th yesterday in doing research for my post about the Obama/Hitler posters and LaRouchePac. The column focused mostly on why Health Care reform was very very bad and why Barack Obama was insensitive/a hypocrite/shouldn't joke about serious  things, while otherwise coining the term "Obamalignancy" and making a joke himself about typhoon victims in Taiwan. Ha, ha. Then, halfway down, I saw this:
'Iron My Shirt!'

* "Clinton Presses India for Climate Change"–headline, United Press International, July 20
* "Clinton Presses NKorea on Denuclearisation, Myanmar Links"–headline, AFP, July 21
* "Clinton Presses Iran for Info on Detained U.S. Hikers"–headline, CNN.com, Aug. 3
* "Clinton Presses South Africa on Zimbabwean Crisis"–headline, Bloomberg, Aug. 7
* "Clinton Presses Angola to Sweeten Trade Ties"–headline, Associated Press, Aug. 9
* "Clinton Presses Congo on Minerals"–headline, New York Times, Aug. 11
* "Clinton Presses Nigeria on Corruption, Violence"–headline, Associated Press, Aug. 12
Oh ho-ho! Remember that? It was during the New Hampshire primary, and Clinton was speaking at a rally when two hi-larious dudes disrupted it by shouting out "Iron my shirt!" and holding up signs with the same charming slogan. Get it? Hillary Clinton shouldn't have been running for president, she should have been ironing some dude's shirt — you know, because that's what chicks do. It's funny, last week during Office Hours I went through the litany of carelessly sexist comments about Clinton that were tossed off (and largely dismissed) last year during the campaign — Hillary nutcrackers, "Bros Before Hos" shirts, comparisons to crazy bunny boiling stalkers, anti-Hillary groups with vulgar acronyms, The Cackle, or otherwise likening her to a witch, Mike Barnicle comparing her to a first wife outside a Probate court, Tucker Carlson crossing his legs when he heard her voice, Randi Rhodes calling her a whore, Penn Jillette calling her a bitch, Chris Matthews saying that she only had a career because her husband messed around — but I forgot this one! So thanks to James Taranto for reminding me.
I think Hillary Clinton's response from a year and a half ago is just as apt today: "Ah, the remnants of sexism — alive and well."
Related, Even Now:
Hillary Hate: Making Sexism Acceptable [Eat The Press]
Misogyny I Won't Miss [WaPo]
And What's Worse Than A Nagging Housewife? [Eat The Press]
"No one is making nutcracker icons of McCain or Obama" [Salon]
Hillary Sexism Watch: Part Eighty-Three [Shakespeare's Sister]
Related In "Really? Seemingly?":
Clinton Responds to Seemingly Sexist Shouts [USA Today]
Have a tip we should know? tips@mediaite.com