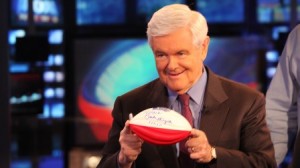 Former House Speaker Newt Gingrich, the latest in a string of non-Romneys to seize the lead in Republican primary polls, has secured the endorsement of The Manchester Union Leader, the key conservative newspaper in New Hampshire. Although the endorsement itself is about as ringing as an underwater bell, it's sure to kick off the week with some game-changing media buzz about Gingrich's shot at the Republican nomination.
The Union Leader endorsement, with the Yoda-esque title "For President, Newt Gingrich" (begun, this Gingrich candidacy has…), reaches back to the Spice Girls' heyday for Newt's accomplishments, and concludes with a paragraph that glows like the interior of a Saw movie set:
Newt Gingrich is by no means the perfect candidate. But Republican primary voters too often make the mistake of preferring an unattainable ideal to the best candidate who is actually running. In this incredibly important election, that candidate is Newt Gingrich. He has the experience, the leadership qualities and the vision to lead this country in these trying times. He is worthy of your support on January 10.
Even so, expect the political media to read a lot into this endorsement, and not just because we're coming out of a holiday weekend, or because the liberal media wants an easier opponent for Barack Obama. The Union Leader endorsement fits nicely into the past-is-present narrative that self-fulfilling candidacies are made of.
Currently, Mitt Romney holds a commanding lead over the surging Gingrich in New Hampshire, at about 36% to 18%. At this same time in 2007, Mitt Romney led eventual nominee John McCain by an even wider 34%-13% margin. Then, McCain got the Union Leader endorsement, and went on to beat Romney in the New Hampshire primary by five percentage points, after losing Iowa to non-factor Mike Huckabee. The rest, as they say, is history.
Things are quite a bit different now than they were in 2007, but this kind of strong narrative-building can take on momentum of its own, and with mere weeks to go before voting begins, Gingrich might be able to avoid the kinds of implosions that have decimated his predecessors in this Republican field. On the other hand, six weeks is an eternity in 2011 time, and might allow on-deck hitter Jon Huntsman to capitalize on his all-out focus on New Hampshire.
In any case, the Union Leader endorsement will certainly make the media take Gingrich's candidacy, once left for dead, much more seriously than it has.
Have a tip we should know? tips@mediaite.com