Rep. Michele Bachmann Disappointed NBC Apology Did Not Come From Network President
Bachmann Disappointed NBC Apology Did Not Come From Network President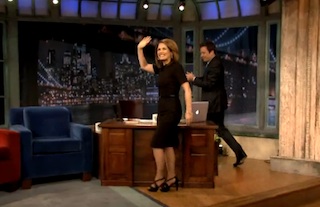 The Rep. Michele Bachmann–Jimmy Fallon "Lyin' Ass Bitch" controversy may be over, but Rep. Bachmann doesn't sound too happy about its conclusion. Speaking to KLIF Radio this week, the New York Daily News reported the Republican presidential candidate said she "of course" accepted the apology from NBC's Senior Vice President of Programming, but nonetheless considered it a result of a double-standard that the President of NBC himself did not send her a message.
RELATED: NBC Apologizes To Michele Bachmann For 'Disrespectful' Jimmy Fallon Song
"This shouldn't be tolerated, it's demeaning," Rep. Bachmann argued, adding that "it's an outrage if it happens to a liberal" but apparently it was acceptable for conservatives to be treated in such a way. "Of course I accept the apology but my guess is that it would have been the president of the NBC that would have been apologizing not a senior vice president," she noted. While she did not say that bandleader Questlove should be fired for the intransigence ("Unemployment is bad enough, I don't want to see anybody else thrown out on the street"), but she did call the claim that it was spontaneous "disingenuous… he had tweeted twice before the show what his intentions were."
RELATED: Michele Bachmann's Entrance On Jimmy Fallon? The Fishbone Song 'Lyin' Ass Bitch'
While she does say she expected liberals to have been apologized to more profusely, Rep. Bachmann did not demand another apology and explicit called for no one to be fired. That said, it is clear this incident is not quite water under the bridge just yet.
The interview via KLIF Dallas (h/t MRCTV) below:

Have a tip we should know? tips@mediaite.com