Republican Who Called On Trump To Drop Out and Compared Him To Mussolini Now Voting For Him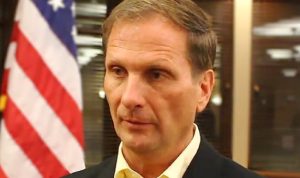 Earlier this week, Rep. Jason Chaffetz (R-UT) backtracked from his previous remarks that he couldn't support the GOP presidential nominee following the infamous Access Hollywood tape, declaring that he would vote for Donald Trump but wouldn't "defend or endorse" him.
Well, another Republican lawmaker from Utah is joining Chaffetz when it comes to voting for the real estate mogul after previously saying he couldn't do so.
Per the St. George News, Rep. Chris Stewart told voters in southern Utah this week that he didn't think there was any other choice but Trump this election.
"I've actually struggled with that, like a lot of Utahns, because some of the things Mr. Trump said, I have such a real problem with," Stewart told St. George News. "But at the end of the day, our choice is Hillary Clinton and Donald Trump. These other candidates are just not going to win. There really is a binary choice, and given that choice, it's very clear to me what is better for our country."

"It's very clear that Donald Trump is a better choice than Hillary Clinton," he said. "At the end of the day, I will be voting for Donald Trump."
This is a far cry from what Stewart said earlier this month following Trump's "grab 'em by the pussy" comments. At that time, he joined other Republicans in calling for Trump to drop out of the race for the good of the party.
I'm incredibly disappointed in our party's candidate. And, unlike the Democrats who have proven completely unwilling to hold Secretary Clinton accountable for her illegal activities that endangered our national security, I am willing to hold Mr. Trump accountable. I am therefore calling for him to step aside and to allow Mike Pence to lead our party.
That wasn't the first time Stewart had criticized the GOP candidate. In March, the Utah Republican compared Trump to Benito Mussolini, saying he didn't represent Republican ideals.
Currently, independent presidential candidate Evan McMullin is running neck-and-neck with Trump in many polls in the state, turning the reliably red Utah into a toss up.
[image via screengrab]
–
Follow Justin Baragona on Twitter: @justinbaragona
Have a tip we should know? tips@mediaite.com