Chris Wallace Stands By Ukraine Report After Fox News Regular Joe diGenova Calls it 'Absolutely False'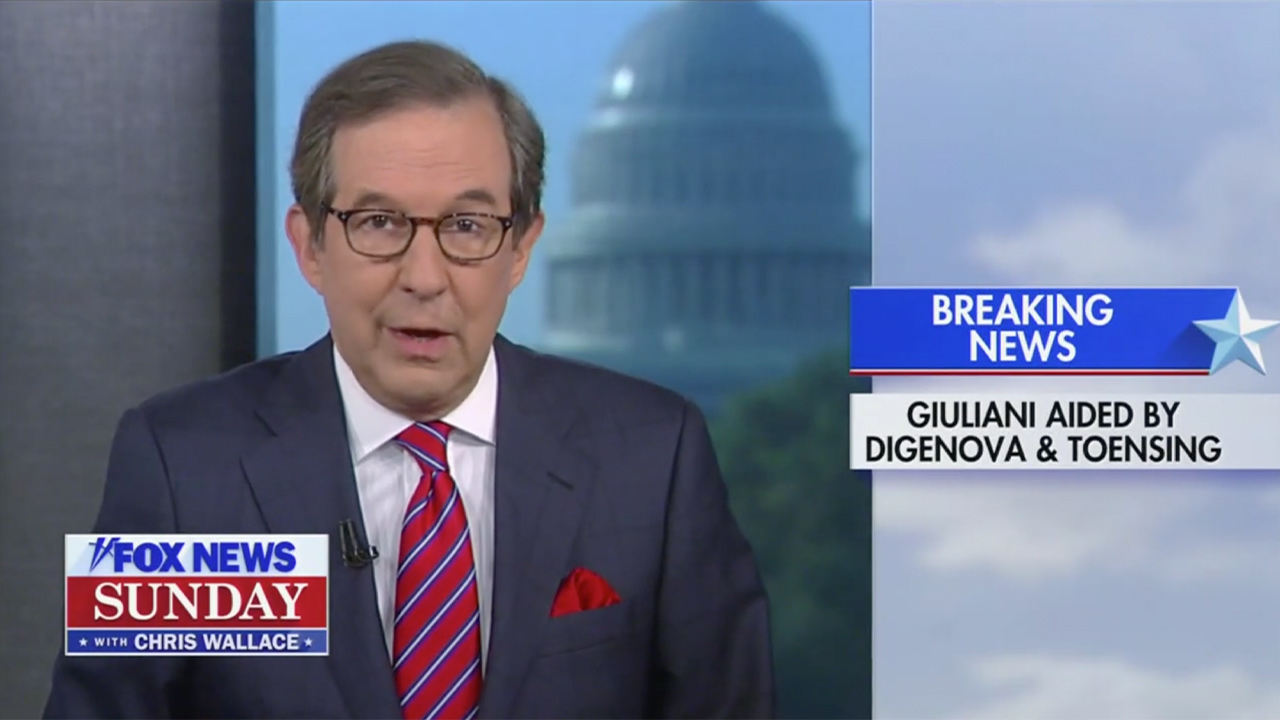 Joe diGenova, a Washington lawyer and frequent defender of President Donald Trump on Fox News, admitted on Monday that he had worked with Rudy Giuliani on his efforts to have Joe Biden investigated by Ukraine. But diGenova also fired back at reporting from Fox anchor Chris Wallace about his involvement in those attempts, calling it "absolutely false."
"Two high-profile Washington lawyers, Joe diGenova, who's been a fierce critic of the Democratic investigation, and his wife Victoria Toensing were working with Giuliani to get oppo research on Biden," Wallace reported on Fox News Sunday.
"According to a top U.S. official, all three were working off the books apart from the administration," Wallace said. "The only person in government who knows what they were doing is President Trump."
DiGenova has been a regular — and controversial figure — on Fox News since news of Trump's efforts to pressure Ukraine into investigating his top 2020 rival was exposed by a whistleblower. Once (briefly) a member of Trump's legal team, diGenova appeared on Tucker Carlson's show last week and lashed out at Fox News legal analyst Andrew Napolitano for saying Trump had admitted to a crime. After Fox News anchor Shepard Smith defended Napolitano, diGenova returned to Carlson's show and mocked Smith.
The revelation that diGenova was working behind the scenes with Giuliani to investigate Biden was a pretty stunning one, made more remarkable by the fact that it was reported by an anchor at Fox News.
"That's absolutely false," diGenova said when asked about Wallace's report that we worked with Giuliani. Speaking to WBAL radio Monday morning, diGenova also said Wallace's reporting that the only person who knew what he was doing was Trump is "totally false."
The lawyer went on to explain his work with Giuliani on their search for dirt on Biden: "Rudy asked us to represent any of the Ukrainian whistleblowers who wanted to provide information to U.S. law enforcement about what they had heard and learned."
"The trip to Ukraine was cancelled," diGenova explained, "no one ever went there, no one was ever talked to, we never had the opportunity, our law firm, to represent any whistleblowers."
"Fox did not report that, even though they were told that," diGenova said.
"We were never representing the president of the United States," he added, denying he was paid by the president.
Wallace, it should be noted, never reported that diGenova's law firm represented the president. The Fox News anchor reported that diGenova and his wife Victoria Toensing were working with Giuliani off the books to get oppo research on Biden.
Through a Fox News spokesperson, Wallace told Mediaite, "We stand by our story."
Listen to diGenova's interview above, via WBAL.
Have a tip we should know? tips@mediaite.com
Aidan McLaughlin - Editor in Chief