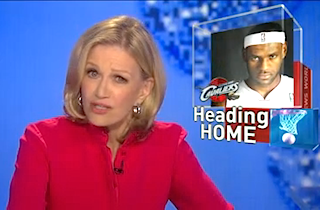 On Friday, NBC Nightly News and the CBS Evening News both opened with the story about accidents involving anthrax and bird flu at C.D.C. labs. But ABC World News went with a more uplifting story to start its show: NBA all-star LeBron James' decision to return home to Cleveland and rejoin the Cavaliers.
"The king is coming home," Sawyer said at the top of her broadcast Friday night. "LeBron James, and not just the king of basketball, arguably the superstar whose choices could change the economic fortune of an entire city. Today James announced that he's chosen to return to Cleveland."
RELATED: MSNBC's Luke Russert Cuts Off Dem Rep. to Break LeBron James News
Sawyer spent just over two minutes on the story, which included a report from the ground in Cleveland where fans were celebrating James' return, before turning to the C.D.C. story herself. On CBS and NBC respectively, Brian Williams and Scott Pelley eventually got around to covering James' decision later their broadcasts.
The outrage on Twitter over ABC's decision to lead with the LeBron James decision over other, more substantive stories, was palpable. Here's a sampling of the sentiment:
First story on ABC world news tonight was….Lebron James going to Cleveland. #Facepalm

— Danny (@Dannypace) July 12, 2014
LeBron James was the FIRST story on @ABCWorldNews. @NBCNightlyNews managed to hold off till 8 minutes in the telecast. #Shameful

— Nick Kling (@docfonda) July 11, 2014
The Middle East is at war and ABC World News is leading with LeBron because of course!!!!!!!!

— Eva Palmer (@Eva_Palmer) July 11, 2014
I understand Lebron's move to Cleveland is big news but @ABCWorldNews that's what you start your broadcast with???

— jason (@jasonandkirk) July 11, 2014
THE OPENING STORY ON ABC WORLD NEWS TONIGHT IS ABOUT LEBRON I HATE EVERYTHING

— Ravioli (@kaylabaylala) July 11, 2014
Meanwhile, The New York Times' SportsSaturday section decided to take a more understated approach to reporting the James news on its front page today: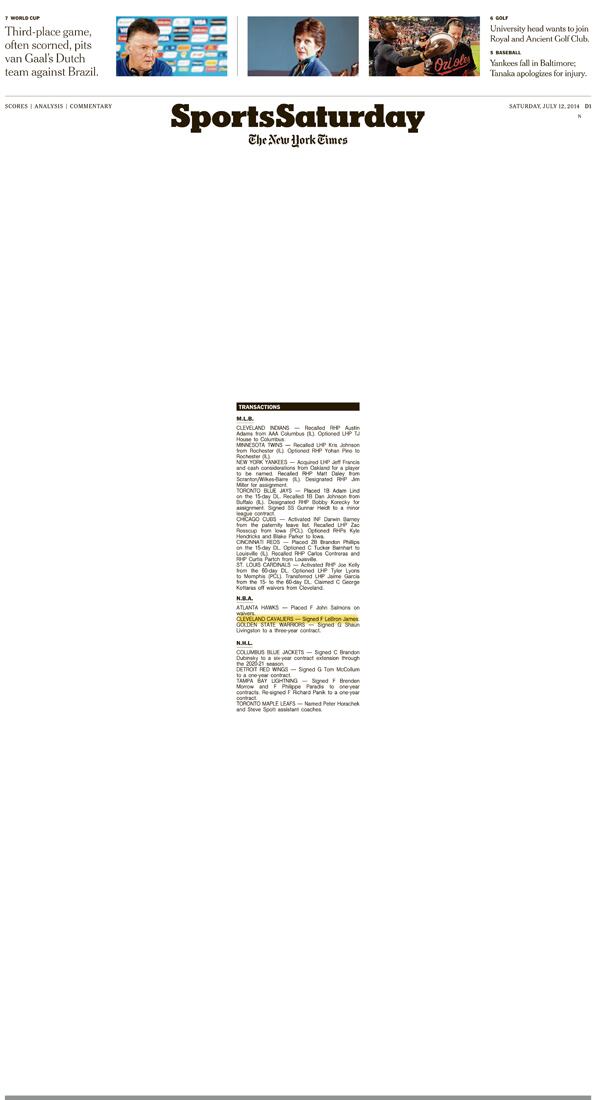 Watch video below, via ABC:
[Photo via screengrab]
— —
>> Follow Matt Wilstein (@TheMattWilstein) on Twitter
Have a tip we should know? tips@mediaite.com