Andrew Sullivan: GOP Can't Stop Gingrich Because Of Support Among Fox News & Talk Radio Audiences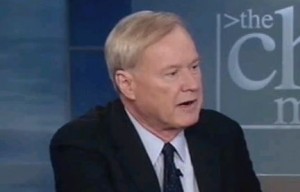 Newt Gingrich's family values have been the subject of much attention during the GOP primary race, and on his show today, Chris Matthews highlighted a poll which showed roughly half of the respondents rated Gingrich's personal standards poorly. Mathews asked panelist Andrew Sullivan if the GOP establishment still retained enough clout to heavily influence the race going forward, given the concerns they have about a Gingrich candidacy.
RELATED: Andrew Sullivan Talks Republicans On CNN: 'I'm Still A Conservative, And They Are Not'
Sullivan argued the establishment has lost control of its "tiger," or rather, its populist religious base, and they're worried that the tiger will end up turning on them this time. Time's Mike Duffy made the observation that no big-name Republican governors have come out to help Romney or stump for him, though Matthews pointed out a few of these Republican governors have their own problems to deal with. Duffy also noted that every time Romney sends out a spokesperson to argue on his behalf, it reminds voters that Romney is being supported by the Republican old guard, and he's the candidate of choice for the establishment.
Kathleen Parker brought up Gingrich's reaction to the audience at last week's NBC debate being silenced, suggesting he only does well when he gets to feed off the energy of a crowd. But geographically speaking, Parker thought Gingrich was only doing well in places like South Carolina and Florida was because they're Southern states and Gingrich is a familiar face to many in that region of the country.
Matthews wondered if the establishment would have any power to stop Gingrich following Florida. Sullivan expressed his doubts.
"I don't think they can because the people behind him are the Fox News viewers and the talk radio listeners, and that is the Republican establishment."
RELATED: Sarah Palin Defends Gingrich: Establishment Fears Him Because He Leads 'Rage Against The Machine'
Sullivan predicted that if Newt Gingrich captures the GOP nomination, Ron Paul will end up running as a third-party candidate and expected such a race to be a "realignment election."
Watch the video below, courtesy of NBC:
Have a tip we should know? tips@mediaite.com
Josh Feldman - Senior Editor