Andy Levy Defends Obama From Guttenberg: 'I Don't Think The President Should Be At His Desk All Day'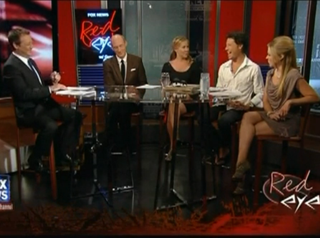 The unexpected attack on President Obama from Steve Guttenberg (on CreditCards.com, it was that kind of story) for spending too much time on The View and at fundraisers was the topic du jour on last night's Red Eye, where the panel marveled at the fact that Guttenberg had somehow inserted himself in this conversation and that he had taken against the President. Host Andy Levy found one thing about his complaint particularly incorrect however, arguing that Guttenberg's complaint the President wasn't "at his desk all day" was unfounded.

RELATED: Actor Steve Guttenberg Slams Obama For Vacations, Mingling With Hollywood
Guttenberg slammed the President for having dinners with George Clooney and being on TV, arguing, "the President should be at his desk all day." There were a number of mysteries about this news. Amy Schumer brought up one of them: "the fact that someone was on CreditCards.com in the first place, how did that happen?" Rep. Thad McCotter had his own issues with the complaint, arguing President Obama needed "less time at his desk, more time watching Police Academy." He was kidding, but Levy was inclined to agree. "I don't think the President should be at his desk all day," he argued, noting that he never understood the outrage against the President for taking some vacations– "it's not like they're turning off their cell phone for a week."
Rep. McCotter agreed. "It's quality of work, not quantity." Lauren Sivan joked that she was surprised Guttenberg was opposed to the lack of work– "he knows about not working"– and expected instead "he was going to start talking about gay marriage, since he raised a kid with two men."
At some point the panel stopped talking about Guttenberg at all, instead speculating about the potential success Rep. McCotter could have as a cult leader.
The segment via Fox News below:

—–
»
Follow Frances Martel on Twitter
Have a tip we should know? tips@mediaite.com