Autistic Journalist Demands Joe Scarborough Retract Comments Linking Autism To Aurora Shooting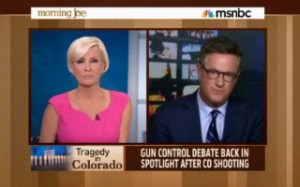 On his MSNBC program this morning, Morning Joe host Joe Scarborough made the stunning declaration that people like Aurora mass shooter James Holmes are "somewhere, I believe, on the autism scale," and that while he didn't know if this was true of Holmes specifically, "it happens more often than not."
In an email to Mediaite, labor journalist Mike Elk, who recently "came out" as autistic himself, denounced Scarborough's comments, and demanded a retraction from the network.
In case you missed it, here's what Scarborough said this morning:
"You have these people that are somewhere, I believe, probably on the autism scale, I don't know if that's the case here, but it happens more often than not, people that can walk around in society, that can function on college campuses, can even excel in college campuses, but are socially disconnected. I have a son who has Asperger's who is loved by everyone in his family and who is wonderful, but it is for those that may not have a loving family and a support group and may be a bit further along on the autism spectrum, an extraordinarily frustrating, terrible challenge day in and day out. and so, I do think, again, I don't know the specifics about this young man, but we see too many shooters in these type of tragedies bearing the same characteristics mentally."
In response to an email inquiry, Mike Elk, a staff writer for In These Times who recently wrote a beautiful essay in which he "came out" publicly as a person with Asperger's Syndrome, denounced Scarborough's remarks, and demanded a retraction:
As both a person with Asperger's Syndrome, as well a journalist, MSNBC must issue an immediate retraction of Joe Scarborough's unfounded statements accusing the shooter of having autism and linking autism to violence. There is absolutely no evidence that the Colorado shooter has autism, nor is there a single scientific study that links autism to violent outbursts such as the despicable acts of terrorism that occurred last Friday in Aurora, Colorado. As someone who was bullied, beaten, and often a loner as child, I never once though about taking out violent rage against those who bullied me. Instead, I poured my sense of hurt into reporting on workers who were similarly being bullied by big corporations.

Scarborough, whose own son has Asperger's, should know better than to spread false stereotypes about people on the Autism spectrum as being prone to violence. Instead, Scarborough has contributed to the further isolation of people on the autism scale. Hopefully, Mr. Scarborough will retract his remarks, as well as host a broader discussion on Autism to spell away the many stereotypes of Autism often spoken by non-Autistic people such as himself.
The Autistic Self Advocacy Network has also issued a statement calling for a retraction:
"Mr. Scarborough's remarks suggesting that James Holmes, the shooter behind the Aurora movie theater killings, was an Autistic American are as perplexing as they are without evidence. No information on Mr. Holmes has suggested that he displays the diagnostic characteristics of autism and no evidence exists tying autism with violent behavior or threats to public safety. As a parent, Mr. Scarborough should know better than to perpetrate these types of unfortunate stereotypes. Autistic Americans are an integral part of our society and live, work and attend school alongside our non-Autistic peers. There exists no evidence linking autism with violent behavior. By spreading ill-founded and unsupported claims linking autism with violence, Mr. Scarborough does our community real harm. We urge him to reconsider and for him and MSNBC to retract his remarks."
In case you were wondering what Scarborough based his assertions on, I believe it was a study that was recently published in The Journal Of Joe Scarborough's Ass. There is absolutely no scientific data which links autism to mass murder, and what little research there is on autism and crime is flawed and inconsistent. The inherent absurdity and irresponsibility of Scarborough's statements are aggravated by the fact that he is the father of an adult child with an autism disorder, which might lead viewers to believe that he knows what the hell he's talking about. This is the main reason I hesitate to disclose that I am the father of two children with autism spectrum disorders, because I don't want to derive unearned authority, moral or otherwise, from that fact.
I reveal it now because it's relevant to my initial reaction to Scarborough's comments, which was one of hurt and revulsion. Autistic kids have enough to deal with in life without Joe Scarborough running around telling people they're potential mass murderers, unless they've got an awesome dad like Joe Scarborough, or conflating autism, which is a neurodevelopmental disorder, with mental illnesses like schizophrenia.
But that emotional impulse to lash out at Joe Scarborough makes Mike Elk's response all the more admirable. Yes, he is unamused, but his main concern is that people be given the correct information. Rather than simply vent outrage at Joe Scarborough, Elk makes a reasonable request, that instead of issuing some sort of apology, and going through the shame paces, Joe Scarborough ought to set the record straight at the same volume at which he distorted it.
Follow Tommy Christopher (@TommyXtopher) on Twitter.
Have a tip we should know? tips@mediaite.com