Chris Christie Bashes 'Opportunistic Politicians' For Pushing Gun Control Following Aurora Shooting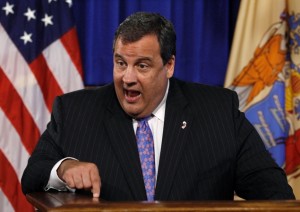 Conventional wisdom indicates Friday's tragic shooting in Colorado will not result in politicians suddenly deciding to crack down on gun laws, but over the weekend, several legislators publicly made commitments to revisiting gun control. During a news conference today, Governor Chris Christie said that New Jersey has sufficient gun laws on the books, and criticized "opportunistic politicians" for "sending out press releases" and "trying to make political points" in the wake of Friday's shooting in Colorado.
RELATED: NJ Sen. Lautenberg Planning to Reintroduce Gun Control Legislation In Wake Of Colorado Shooting
Christie made it clear he thinks New Jersey has "enough gun laws" and said that the state needs to be "enforc[ing] the gun laws that we have now." After being asked several times to elaborate on his remarks, Christie scolded politicians for being so quick to politicize the shootings in order to push their agendas.
"People were just killed over the weekend… Can we take a deep breath before politicians start sending out press releases? Can we allow the people to be mourned appropriately by their families before you have opportunistic politicians out there trying to make political points in an election year?"
Christie added that it "offends… and bothers" him that people are wading into the gun control debate "while these people are still waiting to be buried." One of New Jersey's senators, Frank Lautenberg, is planning to reintroduce the assault weapons ban in the Senate, but a senior Democratic aide told The Huffington Post today that it was unlikely the bill would go anywhere.
h/t NJ.com
Have a tip we should know? tips@mediaite.com
Josh Feldman - Senior Editor