Axelrod: MSNBC's Bridgegate Coverage 'Balanced' but Christie 'Pummeled' on Some Shows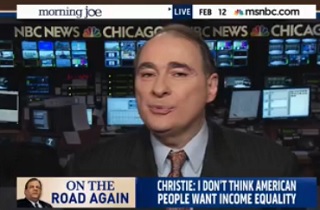 On the heels of some good news in the Chris Christie Bridgegate scandal, that Governor Christie did not take a helicopter ride to survey the traffic created by his administration's lane closures, the Morning Joe crew weighed in on the "gleeful" coverage of the scandal Wednesday morning. Former Obama senior advisor David Axelrod pointed out, however, that while he views MSNBC's coverage as "at least balanced," Christie has benefited from the fact that he has "gotten pummeled" on some MSNBC shows.
Christie spoke to the Economic Club of Chicago on Tuesday, and the Morning Joe crew was assessing his performance there as a political candidate. Axelrod said that Christie "would be a great exponent of the Republican Party if he can get clear of this," and added that while there has been some "cheerleading" of Christie, "I think if it nets out over the course of hours on MSNBC, it probably is at least a balanced picture. He's gotten pummeled on some other programs, and I think that's actually redounded to his benefit with the base."
Axelrod noted that Christie has been invited to speak at this year's CPAC (after being snubbed last year), but also added that if Christie isn't eventually cleared in these scandals, "I think he's got real problems. But he also has real talent, and if he does get through it, he shouldn't be discounted."
Host Joe Scarborough protested that "Anybody who has watched this show from the very beginning of this crisis knows we aren't cheerleading for Chris Christie, we've identified him as a friend. I've started hammering for a couple of things he's done, for the statement, not knowing, et cetera,et cetera, et cetera."
While Scarborough is correct that his program hasn't exactly been cheerleading for Christie, there have been moments of factual denial, to put it mildly. On the other hand, Axelrod's characterization of MSNBC's coverage as a "balanced picture" on net also doesn't comport with reality. The Rachel Maddow Show identified the scandal early, and along with the network's other more progressive programs, has devoted relentlessly dogged coverage to Christie's troubles regarding Bridgegate and Hobokengate. Very little of that coverage has had to do with the prospect of Christie's innocence.
Whether the coverage should be "balanced" is a separate question entirely, but Axelrod's statement is provably inaccurate.
Here's the clip, from Morning Joe:
Have a tip we should know? [email protected]