Bernie Goldberg Slams Romney Defenders On O'Reilly: They Might Be 'Certifiably Nuts'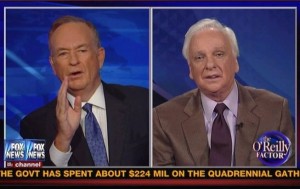 On Fox News tonight, Bernard Goldberg admitted to Bill O'Reilly that he is not convinced, as many conservative pundits are, that Mitt Romney will easily defeat President Obama in November. Goldberg said that the people defending Romney are either "political Einsteins" or "certifiably nuts," though he did make it clear he believes Obama to be an "incompetent president."
RELATED: Peggy Noonan: 'It's Time To Admit The Romney Campaign Is An Incompetent One'
O'Reilly brought up Romney's recent sitdown with Kelly Ripa and Obama talking with David Letterman last night before turning to Goldberg. Goldberg said he understands why candidates feel the need to go on entertainment shows, but finds it ridiculous that the men running to be president are answering questions about Snooki and Honey Boo Boo.
Goldberg suspected that Romney doesn't know the first thing about the celebrities he was asked about on Live! with Kelly and Michael, but decided to "pander to the audience" with his answers. O'Reilly suggested that maybe Romney watches the "reality garbage" for a little "comic relief" every now and then, but Goldberg completely laughed it off.
The conversation then turned to the leaked video of Romney talking about the "47 percent," and Goldberg argued that it will be damaging to the Romney campaign. He said that he does not share the same confidence most conservative pundits have over a potential Romney victory.
"Either they are political Einsteins, they're geniuses, or they're certifiably nuts. I'm not sure which one it is, but I'll tell you this. I don't have nearly, not nearly the confidence that they have on how this is going to turn out."
Goldberg added that he hopes they turn out to be right, and O'Reilly asked him why he would say that. He said that he's never known Goldberg to be that ideological. O'Reilly asked Goldberg point-blank what it is about Obama that he objects to.
Goldberg said he just doesn't think Obama is a good president, and even doubts that he is even a "competent president." He clarified that he mostly bases that assessment on Obama's handling of the economy.
Watch the video below, courtesy of Fox News:
Have a tip we should know? tips@mediaite.com
Josh Feldman - Senior Editor