Bill Maher Responds To Allen West Accusing Him Of Racism For 'Party Of The Apes' Remark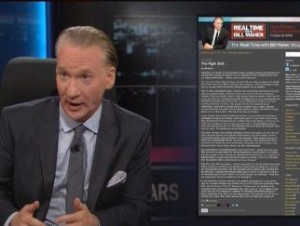 Bill Maher wrote a blog post last week in which he joked that the Republicans are bringing about "The Rise of the Party of the Apes." In the post, he called out several Republicans by name, including Michele Bachmann, Dick Lugar, and Florida congressman Allen West. Well, West's campaign picked up on the use of the word "apes" in the post and accused Maher of being a racist in a fundraising e-mail. On his show tonight, Maher responded to West's accusation by saying the use of "apes" was tongue-in-cheek and there was nothing racial to it.
RELATED: Bill Maher Slams GOP Pundits, Office Holders In 'The Rise Of The Party Of The Apes'
West's campaign manager said the following in a fundraising letter sent out last week.
"This week, Obama's million-dollar super-PAC donor and 'comedian' Bill Maher leveled racial smears against Allen West and the 'Party of the Apes.' Maher went on to say that when fellow Republican representatives greet Allen in Washington, they probably say, 'Word, Allen. Word.' Because that's how they think black people talk."
Maher dismissed the "Rise of the Party of the Apes" line as a "joke [and] a movie reference." He couldn't help but note the irony of the situation he found himself in.
"It's so comical, not just this, but the idea that the Republican party, of all people, their number one thing on their agenda is rooting out racism wherever it is."
Watch the video below, courtesy of HBO:
—–
Follow Josh Feldman on Twitter: @feldmaniac
Have a tip we should know? tips@mediaite.com
Josh Feldman - Senior Editor