Bill Maher Warns Voters: If You Elect Romney, 'You're Electing Every Right Wing Nut He's Pandered To'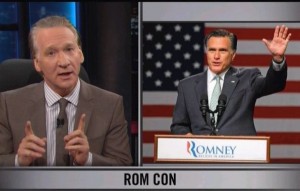 Bill Maher used his final New Rule of the night to warn voters unhappy with President Obama of the political and social consequences of the other guy winning. Maher argued that Mitt Romney winning the presidency would not just be a victory for him, but for every Republican extremist Romney has ever supported in his recent political career. Maher said Romney "may seem like a nice fella," but he's "a compulsive liar whose whole life is secret" and would bring too much unwanted baggage into a relationship with America.
Maher used the sexual analogy to say that when you do it ("it" meaning "voting") with Romney, you're also doing it with "every right wing nut he's pandered to. Maher said that anyone who votes for Romney is supporting all of the crazies in the GOP, even the ones who believe in the end of days.
He implored voters to think about the lack of any serious social controversies from the Obama White House. Compared to George W. Bush and Terri Schiavo, Maher argued that under Obama, the nation never turned into a "Jesus-freak episode of House." And as for the global warming issue, the Obama administration actually takes the science seriously, Maher said, as opposed to the last administration, which maintained "heat melting ice was just a theory."
Maher also warned about the "fresh can of nuts" in Congress with wildly anti-scientific beliefs that would have more free reign under a Republican administration. Maher said that a Republican in the White House would mean the return of "Bible-thumping bullshit" in government.
Watch the video below, courtesy of HBO:
—–
Follow Josh Feldman on Twitter: @feldmaniac
Have a tip we should know? tips@mediaite.com
Josh Feldman - Senior Editor