Bill O'Reilly And Panel's Heated Debate On Rapper Common's White House Appearance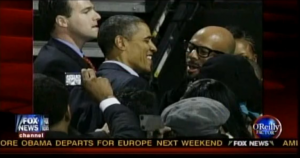 Bill O'Reilly brought on a panel to discuss the White House's decision to invite rapper Common to a poetry event. As you may be aware, some on the right have criticized the choice, even prompting a response from White House press secretary Jay Carney about the resulting kerfuffle.
Panel member Leslie Marshall, a liberal radio host, told O'Reilly that while she didn't want to come across as a "real white nerd" or anything, her research into rap indicates that Common is not a "gangster" or a "thug," and has done charitable works in addition to addressing some complex social issues in his songs. Alicia Menendez, a senior adviser at progressive think tank NDN, added that, at the risk of also "nerding out," she believes it's a mistake to conflate a rapper with the content of his songs. Common is the "golden boy of rap," she added, and was discussing "cop killing" in a song because it's an important issue, not necessarily because he endorses it.
O'Reilly, for one, wasn't buying that distinction, at least not in Common's case:
People hear about this and understand who the killers are, and that this man is telling his fans that the killers didn't get justice, it's disastrous for President Obama. Don't you understand that?
O'Reilly then took umbrage with Melendez's assertion that former White House guest Eric Clapton's lyrics were also problematic, because they have referenced drug use and… well. There's "I Shot the Sheriff."
"I don't know who to give the last word to," said a flummoxed O'Reilly. "You're both crazy."
Check out the segment, via Fox News:
Have a tip we should know? tips@mediaite.com