O'Reilly Calls For Formal Objection Filed Against Media Matters' Tax-Exempt Status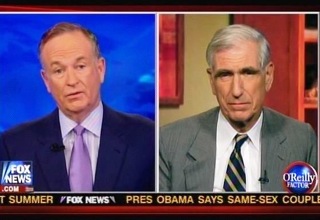 Bill O'Reilly keeps addresses to his media enemies at a bare minimum, but tonight he devoted an entire segment to declaring war on left-wing media criticism site Media Matters for America and their current tax-exempt status. Along with Washington Times reporter C. Boyden Gray, O'Reilly highlighted the fact that MMFA had not paid taxes since well into the George W. Bush administration and it would take an independent formal complaint to remove their status.
O'Reilly, who defined Media Matters as an organization dedicated to war on Fox News, asked Gray to explain how Media Matters had arrived at their status. According to him, they had filed legally as a group that would be "distributing materials that analyze media bias"– a mission that would allow them to be tax-exempt– but, he argued, it had become "a war against you and a media boot camp." "This," Gray argued, referring to MMFA's current work, "is not what they said and not what they were given tax exempt status for." He also recommended that "Someone should file an application with [the IRS]," but not Fox News, to complain that the organization did not deserve its status.
O'Reilly was quick to point out that its status was not proof of any corruption on the Obama administration's part, as Media Matters was formed and received its tax-exempt status during the latter Bush years, though Gray argued that blaming Bush for Media Matters' tax status didn't make sense to him. Gray concluded that the first step to removing MMFA from the tax exempt list would be to file a formal complaint, which O'Reilly supported.
The segment via Fox News below:

Have a tip we should know? tips@mediaite.com