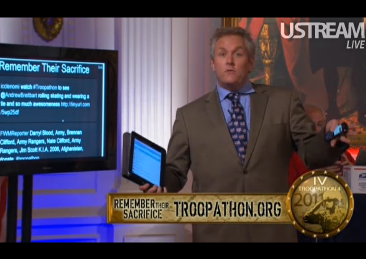 Andrew Breitbart is trying to cash in on Weinergate– for charity. The conservative web proprietor has taken to Twitter to promote Troopathon— a fundraising extravaganza that serves to collect money for care packages and other services to American soldiers. Breitbart, one of the event's hosts, is offering in exchange for donations all sorts of "services," including a roller-stake performance, a Weiner-style "manscaping," and getting punched in the face by Alec Baldwin.
Troopathon, now in it's fourth year, has become somewhat of a conservative staple charity event, this year featuring stars as varied as Sarah Palin, Bruce Jenner, Rush Limbaugh and Greg Gutfeld. As host, Breitbart has taken to his responsibility to raise funds with zeal, telling his audience circa 5PM PDT, "I am willing to do very weird things for the next six hours."
Among those things? Apparently a manscaping operation ("I will wax my nether-regions a la a certain former NY congressman if someone donates $100k to #Troopathon!") and a beating– well, a punch— from Alec Baldwin ("If @AlecBaldwin did or didn't offer $1K to #Troopathon to punch my face, I will honor it either way. Bring it on, Modern Man!"). While the latter seems to be open exclusively to Alec Baldwin, a donation from any viewer may trigger the Weineresque situation– so perhaps someone will donate twice as much to make sure that event isn't broadcast online.
Whatever Breitbart ends up doing to himself in exchange for raising money for American soldiers– a worthy cause if there ever was one– it will be happening in the below webcast live throughout the evening, which also gives instructions on how to donate.
Have a tip we should know? tips@mediaite.com