Bill O'Reilly On Tony Hayward: "I'm Giving al-Qaeda Directions To His House"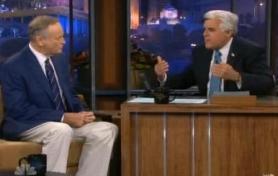 The host of the top cable news show, Fox News' Bill O'Reilly, was interviewed last night by the host of the top late night show, NBC's Jay Leno.
The two-segment discussion saw some surprising takes from O'Reilly on Don't Ask Don't Tell and Lindsay Lohan – and an extremely harsh joke at exiting BP CEO Tony Hayward's expense.
O'Reilly picked up on the 'want my life back' and yachting moments to attack Hayward. "I would have just jammed him in the hole right then," he said. "I'm giving al-Qaeda directions to his house. Just get rid of this guy. If there was ever a justifiable. So now he's out of there, and they're going to put an American in to run British Petroleum. I love that."
Leno also asked O'Reilly about his recent apology over Shirley Sherrod. "I just didn't read the whole transcript, my fault, no excuses," he said. "This is the first time in 13 years we've had to retract a story, and the problem was it was all my fault. I couldn't blame anybody."
Leno started the conversation about Lt. Dan Choi, activist and Army officer recently discharged under Don't Ask Don't Tell. "It's just not fair, we should stop this nonsense," said O'Reilly, coming out in support of repealing the law.
Also discussed: The recent Three Fox News Amigos Yankees game ("they paid me a lot of money to go with them to the game"), Lady Gaga and Lindsay Lohan, about whom O'Reilly may have made as strong a defense of as anyone in the media.
Here's the full interview in 3 parts (including semi-decent impressions of both James Carville and former Pres. George W. Bush):


—–
» Follow Steve Krakauer on Twitter
Have a tip we should know? tips@mediaite.com