Bill O'Reilly Responds To The Haters Who Don't Think The War On Christmas™ Is Real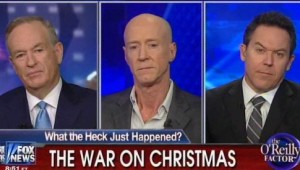 The War on Christmas™ is around once again, marking the time of the holiday when Bill O'Reilly stands up for all Christmas folks, but some think that this whole "war" thing 'tis but a hoax. Well, tonight Bill responded to the warfare deniers by blaming the godless for starting the fires. He said that of course the War on Christmas™ is real, why else would he speak of it so much with such zeal?
To Messrs Greg Gutfeld and Bernard McGuirk, anyone who hates Christmas is kind of a jerk. Gutfeld observed that with all of this fluff, it's not Christmas under fire, it's "a war on fun stuff." O'Reilly used all of his might and his heft to respond to the ludicrous loons on the left who say that the war simply doesn't exist. Well, that got O'Reilly rather pissed.
"They are denying on the left, many of them, our pal Jon Stewart being among them, that there is any War on Christmas at all. I'm making it all up. I'm fabricating – I actually think I'm like Jeff Dunham. I'm a ventriloquist forcing the governor of Rhode Island to call it a holiday tree."
McGuirk said that the left is in such great denial, for warfare always makes the liberals not smile, and mocked Lincoln Chafee for announcing with glee that he will give people a "holiday tree." All those "misanthropic heathen atheists" are to blame for the world's biggest holiday looking so lame, for some isolated cases of local intervention is enough to warrant a big Christmas Geneva Convention.
McGuirk and O'Reilly know Christianity may wane all thanks to the secularists so insane whose support of gay marriage and abortion and pot will literally ruin Christmas and force it to rot. Because how much more anti-Christian can you get in a country with Christians at 70 percent?
Watch the video below, courtesy of Fox News:
—–
Follow Josh Feldman on Twitter: @feldmaniac
Have a tip we should know? tips@mediaite.com
Josh Feldman - Senior Editor