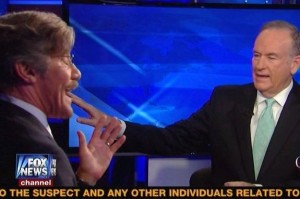 Bill O'Reilly took Geraldo Rivera to task tonight for criticizing the network's continuing coverage of the attack in Benghazi that killed four Americans in September. Rivera has been criticizing the "bloodlust" of the Republican and conservative media scrutiny being applied to the attacks and how the Obama administration dealt with the aftermath, and got into a shouting match this morning with Eric Bolling over it. O'Reilly asked Rivera how he could possibly discount the legitimacy of an important national security story just to make a point about partisan politics.
RELATED: Geraldo And Eric Bolling In Screaming Match Over Attempts To Blame Obama Admin. For Benghazi Deaths
O'Reilly told Rivera he was "on the wrong side of this," citing documentation showing that U.S. officials at the consulate directly told Hillary Clinton that they could not protect themselves, and were promptly ignored by the State Department. O'Reilly was amazed at how Rivera, who is not typically part of the "touchy-feely, politically correct" crowd, could be so adamantly in denial about the real story.
Rivera said that Obama has been "slandered" as a "murderer and a liar" by those seeking to make the attack the biggest news story leading up to next week's election. He said the president is owed an apology from those voices in the media, but O'Reilly told Rivera he was getting off-track and had him directly address how he himself had covered the story. Rivera argued that Obama did everything that was in his power during the attack, but O'Reilly interrupted again to say Rivera was dodging the question.
Rivera acknowledged that there should have been more security in Benghazi to begin with, and raised questions about the "meager" security that accompanied the late ambassador Christopher Stevens. But given the security situation at the time of the attack, Rivera maintained there is no justifiable reason for Obama to be criticized as heavily as he is in conservative circles.
O'Reilly argued that Obama "should have held a press conference" weeks ago to specifically explain the circumstances of the attack after the initial confusion coming out of the White House and State Department. He said that the president has deliberately been avoiding the story because it would not play well in the election.
Watch the video below, courtesy of Fox News:
Have a tip we should know? tips@mediaite.com
Josh Feldman - Senior Editor