O'Reilly To Trayvon Martin Family Attorney: 'It's Wrong To Convict Anybody On Television'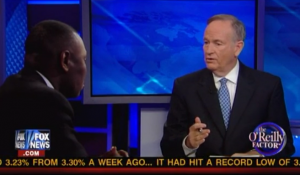 On his show Thursday night, Fox News' Bill O'Reilly took on the media for essentially convicting George Zimmerman before all the facts about the Trayvon Martin case have been sorted out. Speaking to Benjamin Crump, an attorney for Martin's family, O'Reilly discussed the way Florida is handling the case, arguing we should all "pull back" and let the system work.
O'Reilly began by mentioning the latest personality to comment on the case: Oprah Winfrey (who said it was "a tragedy" and a "shame" that there's not yet been an arrest). Winfrey is "usually responsible and fair in her assessments," O'Reilly said. "You may not agree with her politics, but her intentions are mostly good. Not on this one." He continued: "A special prosecutor is investigating and knows far more about it than Oprah, or any other analyst demanding so-called 'justice.' Florida will get to the bottom of what happened and take the appropriate legal action."
He then critiqued the media response overall:
That's what's wrong with the media in this country: no longer to facts matter; accusations are enough to condemn folks. The press wants a story and doesn't care who gets hurt in the process. […] No media observer knows exactly what happened the night Trayvon Martin was killed.
The media, O'Reilly said, is "exploiting the death of a young man."
He asked Crump whether he believes the state of Florida is going about the investigation in the proper way. Crump said after 33 days, you'd think there would have been an arrest.
O'Reilly then once again turned to the media, saying "they're making these judgments based upon stuff they don't know what happened." So, he asked, "why don't we just all pull back and let the system work, here?"
Crump replied, "Here's the problem with pulling back. The only reason that the state stepped in was because the medi and the public. And at this point, the longer things go without anything happening, the next story comes, and you're gonna forget about it."
"Well that's not gonna happen in this case," O'Reilly replied, then adding, "I wouldn't let that happen." Crump asked, "Can I hold you to that?" O'Reilly responded, "I have said from the very beginning I want justice in this case, that's what I want, but we're not gonna get justice if we have vigilante mobs like the New Black Panthers screaming to hang a guy. and we have people tweeting the zimmermans home address. This is the danger, counselor."
Crump said he agreed "no extreme is good," but said we need to have a dialogue about how an unarmed boy is killed and Zimmerman is "allowed to go home that same night." O'Reilly said Florida's Stand Your Ground law "changes everything. In another state that never would have happened."
"There is more than enough evidence" for an arrest, Crump asserted.
"As the advocate for the family, I respect you putting that forth," O'Reilly said. But, he went on,"you are not accusing the state of florida, so let them do a methodical investigation, so that when they do come to a conclusion […] all the facts are there. So there aren't any loose ends. I think that's the fair way to do it."
Crump added that we do need to keep watching to make sure "nothing like this ever happens again."
The heat is on, O'Reilly said, "but you know it's wrong to convict anybody on television."
Take a look, via Fox News:

Have a tip we should know? tips@mediaite.com