Bob Beckel Calls Romney A 'Punk' On The Five, Apologizes After The Commercial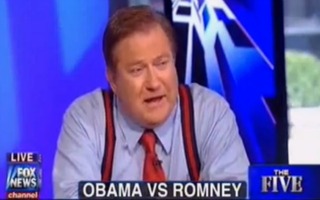 On Wednesday, co-host of Fox News Channel's The Five, Bob Beckel, went after Republican presidential candidate Mitt Romney. Beckel called Romney a punk and said that he is "in the business" of seeing Romney loses to President Barack Obama in November. He quickly apologized for the over-heated remarks in a following segment.

RELATED: The Five's Bob Beckel Goes Ballistic On Allen West: 'Shut Up, You Blowhard!'
"He's never done anything," said an increasingly animated Beckel of Romney's career. "He's a hedge fund operator who didn't release his taxes and then put –had tax havens for people who didn't want to pay U.S. taxes."
"Mitt Romney actually has a resume with considerable experience and, as Andrea stated, he is definitely crushing it against Obama in terms of the economy," replied Kimberly Guilfoyle.
"You mind telling me what his resume is? Bain Capital. Anything else," Beckel asked Guilfoyle.
"He's a Ken doll with all the personality of a Ken doll," Beckel continued.
Beckel questioned why, if Romney was so qualified to be president, his favorability ratings were consistently under water. Andrea Tantaros asked if Beckel thought that Sen. John Kerry was a "boring" and "rich" guy who was equally unqualified to be president. "He was on my side," said Beckel.
"I'm in the business of trying to beat this punk," Beckel concluded.
Upon returning from a break and following a monologue by Greg Gutfeld, Beckel offered an apology.
First of all, let me say one thing – I was not asked to say this – I called Romney a punk in the last segment. I got a little heated because I'm outnumbered four to one, but I take that back. I don't think he's a punk, in fact I think he's a nice guy. I think he's not very good to be President of the United States – as a matter of fact, I think he's terrible.
"That was not a good apology," Guilfoyle remarked.
Watch Beckel call Romney a "punk" below via Fox News Channel:
Watch Beckel apologize for calling Romney a "punk" below via Fox News Channel:
> >Follow Noah Rothman (@Noah_C_Rothman) on Twitter
Have a tip we should know? tips@mediaite.com