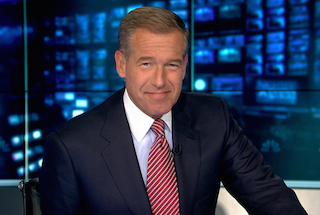 In Vanity Fair's all-encompassing postmortem of NBC, the article focused largely on Comcast's failures in managing NBC, resulting in a string of embarrassments for the once-leading network. Buried in their article, however, was more information about the Brian Williams debacle, and how Comcast could have stopped him, but were run over by his ego.
Back in February, Williams, then anchor of NBC Nightly News, was unsubtly pushed out of his seat after it emerged that he exaggerated a story about being shot down in an RPG attack during the 2003 invasion of Baghdad. When the scandal first broke, however, sources told Vanity Fair that Williams was in severe denial, and it resulted in the infamous half-hearted apology:
Turness and the other executives who had gotten involved quickly became frustrated, as they would remain for days, with Williams's inability to explain himself. "He couldn't say the words 'I lied,' " recalls one NBC insider. "We could not force his mouth to form the words 'I lied.' He couldn't explain what had happened. [He said,] 'Did something happen to [my] head? Maybe I had a brain tumor, or something in my head?' He just didn't know. We just didn't know. We had no clear sense what had happened. We got the best [apology] we could get."
More stories emerged about Williams's serial exaggeration, leading the network to suspend him for six months. However, according to Vanity Fair, few were surprised that such a fate befell Williams, the last Big Name at NBC News after the late Tim Russert and Tom Brokaw:
"What always bothered Tim [Russert] was Brian's lack of interest in things that mattered most, that were front and center, like politics and world events," says a person who knew both men well. "Brian has very little interest in politics. It's not in his blood. What Brian cares about is logistics, the weather, and planes and trains and helicopters."

"You know what interested Brian about politics?" marvels one longtime NBC correspondent, recently departed. "Brian was obsessed with whether Mitt Romney wore the Mormon underwear." (A supporter says that this characterization is unfair and that Williams reads deeply and broadly, especially about history and politics.)
Others lamented the fact that Russert was no longer around to restrain Williams's excesses. "When Tim died, and Brian pushed out [former Nightly News executive producer] John Reiss, there was no one who could influence Brian in a significant way, who could say, 'Goddammit, Brian, you have to do this.' "
The tumor made him do it, apparently.
[Vanity Fair]
[Image via screenshot/NBC News]
—
>> Follow Tina Nguyen (@Tina_Nguyen) on Twitter
Have a tip we should know? tips@mediaite.com