Brit Hume Slams Romney For Changing Positions: You Can Only Flip-Flop So Many Times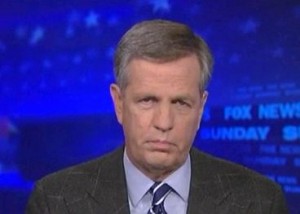 In the latest installment of What Divisive Political Issue Has Mitt Romney Suddenly Changed His Position On This Week?, Chris Wallace and the Fox News Sunday panel parsed Romney's words last week when he claimed we do not know what causes global warming, when he had stated the opposite several months ago.
Wallace and the panel agreed that at this point, the only roadblock in Romney's path to the White House is his history of flip-flopping on major issues ranging from global warming to abortion to the current debate over labor reform in Ohio. Brit Hume was the most critical of Romney on this front, pointing out that while most politicians change their minds from time to time, they generally are not as obvious as Romney about it.
"I think it is his single biggest problem, really, apart from the fact that because of the flips, or because of the positions he's flipping from or positions to the left of where the core of the Republican party is, people don't trust him as a conservative. And I would say, you know, people usually like it if you change positions and come toward their position, but you're only allowed a certain number of flips before people begin to doubt your character."
Wallace brought up Jon Huntsman's quote from Friday calling Romney a "highly lubricated weather vane," and Mara Liasson suspected that unlike in 2008, Romney has an advantage heading into next year's election because it's more about the economy (his strong suit) than about social issues (which Romney is notorious for flip-flopping on).
Watch the video below, courtesy of Fox News:
Have a tip we should know? tips@mediaite.com
Josh Feldman - Senior Editor