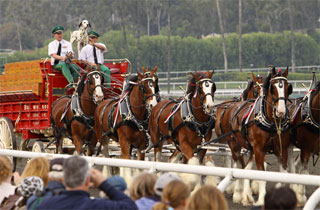 In a totally bullshit move meant to counter the fact that they sell crap beer, Budweiser announced that they would retire the iconic Clydesdale horses from this year's Super Bowl ad in order to appeal to Millennials.
Facing a decline in sales — even Bud Light outsells actual Budweiser beer these days — the Anheuser-Busch company's newest strategy is to appeal to young people between the ages of 21 to 27, according to the Wall Street Journal. An internal study shows that nearly 44% of this demographic has never even tried Budweiser, and the company bets that, if they could just get these craft beer-chugging kids to stop thinking of Bud as grainwater for "older gentlemen and country kids," they may have better fortune.
Legit strategy, sure. But the marketing plan seems kind of bogus:
Convincing them to drink Bud won't be easy. Since 1987, the company has showcased the brand during the holidays with a commercial of its famous Clydesdales, powerful, white-legged horses pulling a red Budweiser carriage through the snow. Instead, this season Budweiser will air spots featuring people in their 20s looking directly into the camera and calling out friends' names as a narrator asks "If you could grab a Bud with any of your friends these holidays, who would it be?"
There's also plans for Budweiser to sponsor food festivals, a Jay Z concert, and a Halloween zombie party promotion in which they serve "Bloodweiser" to the kids, because the kids love the zombies.
In our opinion, Budweiser missed an opportunity to market the Clydesdales as vintage, unless the cool kids don't do "vintage" anymore.
[h/t US News]
[Image via Cheryl Ann Quigley / Shutterstock.com]
—
>> Follow Tina Nguyen (@Tina_Nguyen) on Twitter
Have a tip we should know? tips@mediaite.com