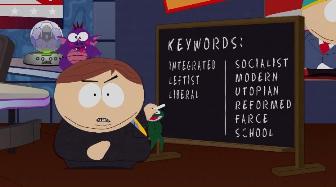 We've seen the Jon Stewart version and the Jason Sudeikis version. Last night, Fox News star host Glenn Beck got the Eric Cartman treatment.
The South Park team took on the Beck phenomenon – complete with asking questions, accusations of socialism and a massive multi-platform media takeover.
When Cartman took over the duty of handling the morning announcements, he turned it into an indictment of Student Body President, Wendy. "Ever since Wendy was elected Student Body President this school has started a rabid decline toward some socialist regime where students no longer have a voice," said Cartman-as-Beck. "Because I'm brave enough to ask questions I come under scrutiny. Is Wendy using your lunch money to buy heroin? Probably not, but how can we know? I don't want my lunch money going to drugs."
Cartman then turned his attention to Wendy's hopes to kill Smurfs – and released his first book, "What Happened To My School."
Of course, like most South Park episodes, it gets taken to even more extreme levels, until Wendy eventually agrees to come on Cartman's show. And Wendy drops some Sarah Palin-like reverse psychology on the host (also: her new book "Going Rogue on the Smurfs").
Also, if we know Glenn Beck, and we think we watch enough to say we do fairly well, we'd expect this to make an appearance on his 5pmET FNC show tonight: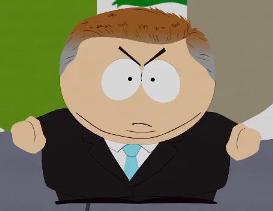 South Park consistently skewers all sides, and actually takes on the left in some cases even more than the right. Beck, who seems to relish in the attention even when it's poking some fun at him, will likely embrace the experience.
You can watch the full episode here, and check out a highlight below:


—–
» Follow Steve Krakauer on Twitter
Have a tip we should know? tips@mediaite.com